Italy Top Companies that Offers Jobs Opportunities to International Applicants
Italy is widely known for the production of many products used by men globally. It is one of the world's largest wine producers and also manufactures machinery, vehicles, pharmaceuticals, furniture, food and beverage, clothing, and robots. The country is also well known for being the largest hub of luxury goods in Europe and the third-largest globally behind China and the United States.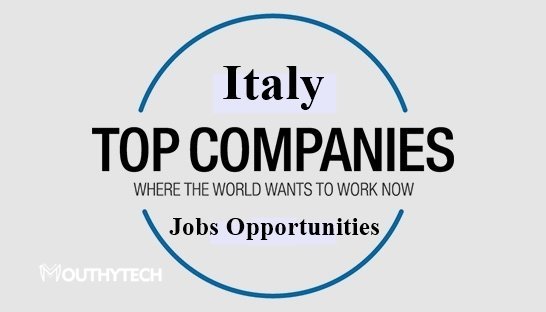 Here are the top largest Italian companies by current revenues, with conclusions drawn based on 2022 and last year's financial statements. There also give employment opportunities for both the international applicants:
Here there comes:
1) Ferrovie dello Stato Italiane
Ferrovie Dello Stato Italiane (Italian State Railways) is a state-owned holding company that manages the infrastructure and services of the entire Italian rail network, including Grandi Stazioni S.p.A., the company redesigning the customer experience of the most prominent Italian rail stations.
Within their strategic goals for the next few years is the willingness to increase high-speed transportation and reduce CO2 emissions not only in Italy but also in the more than 60 other countries where the company operates as a maintenance operator, like as the metropolitan in Riyadh and a member of the U.S. High-Speed Rail Association.
However, it is one of the top companies that annually offer employment to Italians and other qualified job seekers across the globe.
The company earned 12.4B € (around $14.7B USD) in 2019 and counts 83,760 employees.
2) Leonardo
Formerly Leonardo-Finmeccanica and Finmeccanica, Leonardo S.p.A is an Italian multinational company specializing in aerospace, defense, and security.
Its name is inspired by Leonardo Da Vinci, the Italian inventor who also designed the first airplane: the ornithopter. Indeed, Leonardo designs manufactures, and builds helicopters and other manual and automatic air vehicles, as well as solutions to manage air traffic.
Many of the staff of this company are international workers; it recruits workers annually worldwide.
The company's owner is the Italian government through the Ministry of Economy and Finance, which holds 30.2% of its shares and is its largest shareholder. Leonardo is the Borsa Italiana (the Italian Stock Exchange) and is a constituent of the FTSE MIB and Dow Jones Sustainability Indices.
The company earned 13.78B € (around USD 16.3B) in 2019 and counted 49,530 employees.
3) Edizione
Edizione S.r.l. is one of the top companies in Italy, controlled by the Benetton family, the owners of several large Italian businesses. One of them is US Colors of Benetton, the clothing brand that counts more than 5,000 physical stores worldwide. The company's corporate communication has been internationally recognized for being very innovative since the early '90s, as messages in its advertising were related to civil, social, and political issues.
This company offers employment to both Italian and international applicants.
Edizione also holds 30% of Atlantia S.p.A. (the operator of nearly two-thirds of Italy's motorways), 60% of Autogrill (a chain of roadside restaurants), and other investments in the hotel industry, including the Hotel Monaco & Grand Canal in Venice, Italy.
The company earned 17.9B € (around $21B) in 2021 and counted 103 251 Italian and abroad employees.
United Colors of Benetton advertising addressing racism.Image taken by Oliviero Toscani, courtesy of Benetton.
4) TIM
TIM S.p.A is an Italian telecommunications company that has provided telephone and mobile services since 1994, the result of a massive merger with the leading player in the market. It currently owns 32.2% of the market share within the Italian mobile network.
The company's stock is traded in the Borsa Italiana. Since 2017, the Italian State has exercised "Golden Power," the right to oppose or condition acquisitions and corporate transactions of companies that own "strategic" assets in Italy. This allows the government to take action against the company to protect the strategic interests of the country and its technological development, specifically through the diffusion of 5G.
The company earned 17.97B € (around $21.2B USD) in 2019 and counts 40,237 employees.
5) TechInt
TechInt Group is a global company that sells integrated solutions for engineering, construction, procurement, and project management for the oil & gas, energy, mining, downstream, and petrochemical markets and industry and infrastructure civil works. It was founded in 1945 and started international business with Mexico and Argentina in 1954.
The most well-known company belonging to the Group is Tenaris, a global leader in pipes for the oil & gas industry, but TechInt is also the owner of the Humanitas Clinical Institute, which holds some of the most excellent private hospitals in Italy. In fact, the engineering knowledge of industrial products shares synergies with specialized products and processes within the health business.
The company earned 18.5B € (around $22B USD) in 2021 and counted 55.542 employees.
6) GSE
GSE S.p.A. (Gestore Servizi Energetic) is the company that enables the contractualization of energy in Italy.
It is a public company under the Italian government through the Ministry of Economy and Finance that is free to pursue and achieve environmental sustainability goals. It plays a leading role in developing and diffusion renewable sources and energy efficiency in Italy, contributing to the country's energy policy choices and interventions.
The company earned 30B € (around $35.6B USD) in 20121 and counted 603 employees.
7) Poste Italiane
Poste Italiane S.p.A. is the Italian postal service provider. This company also offers integrated communication, postal savings products, logistics, and financial and insurance services throughout the Italian territory.
The Poste network is one of the most widespread in Italy, as it counts 12,809 offices open every day that welcome customers and serve them for financial and logistics needs. The most used retail services are collecting pensions and picking up online purchases.
The company earned 32.5B € (around $38.6B USD) in 2021 and counts 127,431 employees.
8) Eni
Eni S.p.A is an Italian multinational oil and gas company that operates in 66 countries in many fields, including contracting, nuclear power, energy, chemicals and plastics, refining/extraction, and distribution machinery.
In 2005 Eni signed the Extractive Industries Transparency Initiative EITI, the global standard for the good governance of oil, gas, and mineral resources, to improve transparency and management of natural resources in EITI-committed countries around the world. The Italian government owns a 30.303% golden share in the company, and in 2019, Eni ranked 83 on the Fortune Global 500 list by revenue.
The company earned 76.4B € (around $90.8B USD) in 2021 and counts 32,000 employees.
9) Enel
Enel S.p.A. is an Italian multinational energy company active in electricity generation and distribution and natural gas distribution. This company was first established as a public company at the end of 1962 before privatizing in 1999. However, the Italian state is still the main shareholder, owning 23.6% of the shared capital.
The company is also the owner of Enel X, which is innovating on energy distribution systems from storage batteries to electric mobility, and from instruments of energy management in cities to software that controls energy exchange in distributed self-generation systems.
The company earned 80B € (around $95B USD) in 2021 and counts 70,000 employees.
10) Fiat Chrysler Automobiles
Fiat Chrysler Automobiles (FCA) designs, engineers, manufactures, and sells vehicles and related parts, services, and production systems worldwide. FCA started as FIAT in Italy in 1899 and now sells through dealers and distributors in more than 130 countries. Its automotive brands include Abarth, Alfa Romeo, Chrysler, Dodge, Fiat, Fiat Professional, Jeep, Lancia, Ram, and Maserati.
One of the company's recent innovative vehicles is an electric version of the FIAT 500, one of the most concrete examples of how FCA wants to reduce global CO2 emissions.
FCA is listed on the New York Stock Exchange under the symbol "FCAU" and on the Mercato Telematico Azionario under "FCA."
The company earned 102B € (around $121B USD) in 2021 and counts 192,000 employees.
11) Intesa Sanpaolo S.p.A
An Italian international banking group was formed by a merger in 2007. It is one of the biggest banks that offers employment worldwide. – Banca Intesa & Sanpaolo INI. Today, this group boasts an impressive 12.9 million customers and 4719 branches worldwide with over 92.7 thousand employees.
The Italian banking group's reputation remains spotless, with all primary targets achieved, according to their CEO statement in Q1 2022.
As of March, their 1.07 € trillion total assets put them in 28th place worldwide by asset size.
Revenue for FY2021 – 20.7 € billion
12) UniCredit S.p.A
Headquartered in Milan, Italy, this international banking group identifies itself as a Pan-European bank in Western, Central, and Eastern Europe. It is the second largest bank in Italy, after Intesa Sanpaolo, and boasts 15 million customers, putting it in the first place, at least by customer base.
This company offers employment opportunities to both citizens and international applicants annually.
Total assets 916 € billion putting this Italian bank in 34th place among world banks.
Revenue for FY2021 – 18 € billion
13) Unipol Gruppo S.p.A
Description automatically generated
An Italian multinational firm based in Bologna, Italy, with dozens of subsidiaries in insurance, vehicle insurance, real estate insurance, banking, and other industries. Among one of the most successful companies on our list in 2022, as of Q1 reports, it already beat all forecasts and is currently holding a firm on the stock market compared to many of its peers.
The bank is also one of the top companies offering employment to Italian and abroad applicants.
Recently the company declared new strategic actions & initiatives regarding the climate-related risks to the company and the environment, maintaining the Italian companies increasing push for eco-friendly initiatives.
Revenue for FY2021 – 15.8 € billion
14) Iveco Group
An Italian multination transport vehicle manufacturing company with its head office in Turin, Italy, is compromised of a merger between Italian, French, and German car manufacturers in 1975.
Iveco Group is also one of the top companies offering employment to Italian and internationally qualified applicants.
However, Iveco Group recorded a solid performance in FY2022 due to end demand for its products. It was rebounding from the first phase of the COVID-19 pandemic and demand for fuel-efficient transportation equipment. However, the company had a semi-significant presence in the Russian market, which it left, affecting its numbers by the end of FY2022.
Revenue for FY2021 – 12.6 € billion
15) Trenitalia
Another state-owned company on our list, Trenitalia, is the primary train operator in Italy. With head office in Rome. For the past couple of years. The company managed to avoid heavy fallout from most economically significant events, even during the pandemic.
However, it is one of the top companies annually offering employment to international and Italian applicants.
This company won a bid in the UK's transportation, and a joint venture with FirstGroup (70% vs. Trenitalia's 30) opened itself to the western market. However, the recent worker strikes will undoubtedly affect its bottom line by the end of the year.
Revenue for FY2021 – 12.1 € billion
Conclusion
Top Italian Companies that offer Jobs Opportunities to International Applicants is an article by "Mouthy Tech" to solve the problems of unemployment worldwide by creating awareness of the available companies in Italy that currently offer both Italian and suitably qualified job opportunities globally. Get more FAQ;
Can I get a job quickly in Italy?
So, is it hard to get a job in Italy as an ex-pat? The Italian job market is notoriously difficult to break into, especially if you're not a native speaker. Besides that, many of the best jobs in Italy are only available to locals, so it can be tough to find a job if you're not from the country.
What is a high salary in Italy?
A person working in Italy typically earns around 3,650 EUR per month. Salaries range from 920 EUR (lowest average) to 16,300 EUR (highest standard, the maximum wage is higher). The average monthly salary includes housing, transport, and other benefits.
What is the basic salary in Italy?
Because Italy does not have a minimum wage, there is no mandatory minimum rate of pay for workers in Italy. Pay rates must be agreed upon directly with the employer through collective bargaining or other means of negotiating a fair living wage.
What is the most common job in Italy?
Question 1: What is the most popular job in Italy? Answer: Some of the most popular assignments in Italy are in the service sector, which contributes to its national growth. These include wholesale, retail, transportation, and manufacturing.
Can you work in Italy if you only speak English?
Most Italian locals aren't fluent in English, so it's unlikely you'll secure work without mastering the language. On the other hand, your English speaking ability will be highly valued, particularly in tourism and teaching. Because of this, jobs teaching English as a foreign language are readily available.
Is it difficult to get a work visa in Italy?
An Italian work visa is nearly impossible unless you're a high-level manager or professional. Complicated bureaucracy and employment laws coupled with residual fear from the recession means that few employers are willing or able to sponsor an employee's work visa.
The article analyzes these companies in detail and their revenues.