Top 5 Universities to Study in Canada
Canadian universities are recognized as some of the best in the world due to their incredibly high standards of education, exceptional caring for its students, and a plethora of life-changing opportunities within their walls. International students are swarming to study at Canada's institutions due to the incredible opportunities for a wonderful educational experience there. But which of these incredible institutions is the greatest, and which are the best for attracting overseas students? We've selected the top 5 universities in Canada for international students, as well as information on how to study there, to make things a bit easier for you.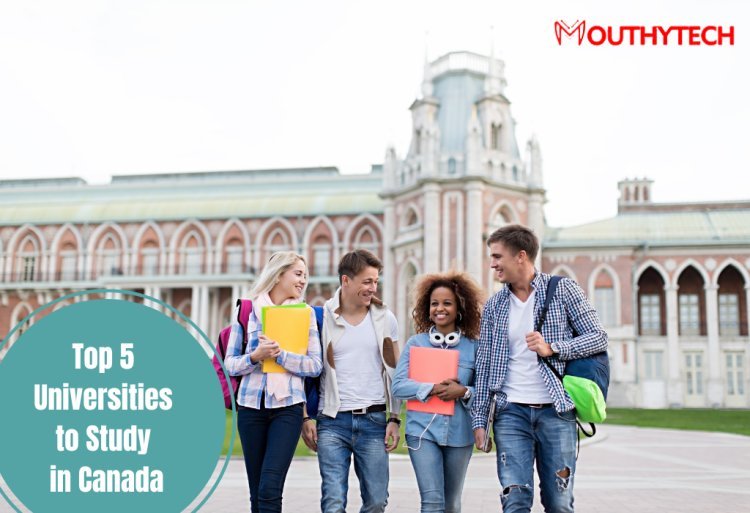 There are 223 universities in Canada, several of which are among the greatest in the world. The QS World University Rankings for 2023 include 30 Canadian universities, while the Times Higher Education World University Rankings for 2023 include 31 Canadian universities. The course curriculum is extensive, and there are numerous specialization streams available in each area, so you can obtain information in-depth in the course of your choice.
Focused specialities also enable you, as an international student, to excel in your profession and distinguish yourself from the competition. Gaining knowledge, experience, and understanding in the chosen stream requires attending the correct Canadian institution. This blog will serve as your guide to the greatest universities in Canada, allowing you to select the institution where you can further your study the most effectively.
Overview of the Top Universities to Study in Canada
Public and private universities can be found throughout Canada. While private universities are run independently, public universities are funded by the Canadian government. No matter the type of university, all Canadian universities continue to offer high-quality education.
Universities in Canada provide a variety of programs, including undergraduate, graduate, postgraduate, and doctorate degrees. Diploma and graduate programs normally last one to three years, whereas undergraduate programs last three years, postgraduate programs last two years, and PhD programs last one to three years, depending on the program and the university you choose to attend.
What makes a top university?
All of Canada's universities are of incredibly high caliber. Determining which Canadian colleges are the greatest can be challenging or confusing because there are so many of them and they are all of such high caliber. Based on the Times Higher Education World University Rankings list and the resources at each university specifically designed to help international students succeed in Canada, we have compiled a list of the top universities in Canada to make the process easier.
What are the Top 5 Universities to Study in Canada?
Based on their places in the overall Best Global Universities rankings, these Canadian universities have been rated numerically. Members of the academic community from North America and throughout the world rated and assessed schools based on their success in research. These are Canada's best international universities.
University of Toronto
The University of Toronto (UofT) is often regarded as the crowning achievement of Canadian higher education. Since its founding in 1827, UofT has spent nearly two centuries offering top-notch higher education in a diverse and expanding range of areas. No matter what career path interests them, UofT gives students a great start with its more than 700 academic programs. UofT has received high rankings from eminent academics and Canadian employers as one of the world's top universities.
UofT not only gives students the chance to begin their careers in the best way possible, but it also gives them the resources to develop their own professional paths. Over 500 firms have been founded by UofT graduates globally. One of the top Canadian colleges for international students is UofT. The university's 97,000-student population includes about 20,000 foreign students, and it provides many resources including the International Student Support Program to make sure new students can smoothly adjust to life in Canada.
Due to the university's size and long history, there is an abundance of student housing, and prospective students are assured a place to live if they are interested.
University Type
Public
Rankings
#18 in Best Global Universities
#1 in Best Global Universities in Canada
Number of Students
97,000
Average Tuition Fee
12,698.98 CAD - 63,768.77 CAD per annum
Location
Toronto
University of British Columbia
The University of British Columbia (UBC) is a hub for learning, teaching, and research on a global scale. UBC was established in 1908, is one of the top 20 public universities in the world, and has campuses in Vancouver and the Okanagan that are home to more than 65,000 students. One of the top universities in Canada for continuing education is UBC. Many UBC graduates can pursue employment in research through the institution.
UBC offers students the ability to experience the dynamic lifestyle of one of North America's largest cities or obtain a true college town experience with campuses in both the thriving metropolis of Vancouver and the heart of the stunning Okanagan in Kelowna.
Due to its extremely high educational standards, opportunities for students to further their education, the chance to live in Vancouver, and the extensive international student services and programs the university offers, UBC is one of the most coveted and best universities in Canada for international students. Currently, overseas students make up about 27% of the student body at UBC.
University Type
Public

Rankings

#35 in Best Global Universities
#2 in Best Global Universities in Canada
Number of Students
70,757
Average Tuition Fee
58,803.42 CAD per annum
Location
Vancouver
McGill University
McGill University is the place to go if you want to continue your studies in the stunning French-Canadian heart of Canada, Montreal. More than 300 courses in more than 40 disciplines, from undergraduate to doctoral programs, are available at the university. For foreign students looking to work in the country's famous healthcare sector, McGill is recognized as one of Canada's top colleges. Most people agree that McGill is the best medical school in Canada. Three hospitals—Montreal General Hospital, Royal Victoria Hospital, and Montreal Children's Hospital—are connected to McGill University's medical school.
In addition to its strength in medicine, McGill is a great place to start a career in Canada since it provides a variety of programs that emphasize experiential learning and on-the-job training. This guarantees that students acquire the practical experience they need to launch their careers in Canada successfully in addition to the theoretical knowledge that is required. Around 30% of McGill's student body is international, making it a popular destination for those who study abroad. The institution has a great selection of support systems and scholarship programs as a consequence for overseas students.
University Type
Public
Rankings
#54 in Best Global Universities
#3 in Best Global Universities in Canada
Number of Students
39,267
Average Tuition Fee
131,130 CAD – 67,128 CAD per annum
Location
Montreal
McMaster University
Located in the heart of Hamilton's Waterfalls neighborhood, McMaster University offers affordable higher education that meets Canada's high standards. The UK-based Higher Education Academy's Global Teaching Excellence Award is now being held by McMaster. McMaster makes sure that the range of job prospects available to its students is accounted for across its hundreds of globally renowned academic programs.
Additionally, McMaster has a sizable support system for foreign students studying in Canada, including the McMaster Office for the Development of English Language Learners (MODEL) and the Success Coaching program, both of which are intended to help foreign students successfully assimilate to campus life in Canada. As a result, it is regarded as one of Canada's top colleges for foreign students.
University Type
Public
Rankings
#138 in Best Global Universities (tie)
#5 in Best Global Universities in Canada
Number of Students
37,370
Average Tuition Fee
1,286.04 CAD - 1,796 CAD per unit
Location
Hamilton
Montreal University
One of Canada's biggest and most prestigious universities is the University of Montreal. It is a public research institution with over 650 undergraduate and graduate programs to choose from. The University of Montreal, the largest French-Canadian institution in the world, is open to students who want to pursue careers both inside and outside of French Canada.
"Shape the future by training leaders who will offer knowledge and skills to their communities" is one of the goals of the University of Montreal. It has a number of connected hospitals, including four research facilities and three teaching hospitals. Additionally, it is associated with HEC Montreal and Polytechnique Montreal. Additionally, the university provides a strong support network for international students that enables newcomers to adapt to both the Canadian and Quebecois way of life.
University Type
Public
Rankings
#156 in Best Global Universities (tie)
#6 in Best Global Universities in Canada
Number of Students
Over 66,500
Average Tuition Fee
10,530 CAD – 28,677 CAD per annum
Location
Montreal
How to Get a Study Permit in Canada
Studying in Canada can provide access to a tremendous array of global prospects. You must have a Canadian study permit, though, in order to be able to enroll in classes there. You can study, live, and work in Canada for the whole duration of your study program plus an additional 90 days with a study permit.
As long as you follow every step of the procedure precisely, obtaining a study permit for Canada is a rather simple process. Obtaining a study permit for Canada can be a protracted and frequently perplexing process. You can raise your chances of studying in Canada as soon as possible by consulting an expert to determine your eligibility and learn how to improve it. This will help ensure you know what exactly you need to do to become eligible for a Canadian study permit today.
FAQs
Furthermore, here are some of the most frequently asked questions about studying in Canada.
How is university life in Canada?
Although daily living at each university is unique, there are several fundamental features of Canadian university life that are shared by all students. This article will explain Canadian student life and how to get ready.
How long does it take to obtain a study permit in Canada?
A study permit typically takes 9 to 11 weeks to obtain. When the IRCC receives your completed application, the processing period begins. It concludes when you receive the application results. There is a stream where you can get your results more quickly, though. It is called the Student Direct Stream.
Can I work while studying in Canada?
Working while you are a student in Canada is a great opportunity to both make extra money and obtain Canadian job experience in your particular or general subject of study. It used to be legal in Canada for international students to work part-time for a total of 20 hours per week. The present work hour limitations imposed on international students in Canada will, however, be temporarily lifted, according to a statement from Immigration, Refugees and Citizenship Canada (IRCC). International students who are authorized to work off campus now have a weekly limit of fewer than 20 hours; this limit will now increase to 40 hours.
Do I get a work permit once I graduate if I study in Canada?
The Post-Graduation Work Visa Program (PGWPP) enables graduates to work in Canada with an open work permit, albeit it is not always guaranteed. This means that you are permitted to work for any employer for a period of time ranging from eight months to three years, anywhere in Canada. The Canadian Experience Class (CEC) of the Canadian Express Entry System provides you plenty of time to accumulate as much Canadian work experience as you can before applying for permanent residence.