Cities With the Most Job Opportunities in Canada
Finding their first job in Canada is a significant concern for immigrants. Canada has demonstrated enough economic development to sustain the high demand for qualified professionals across various sectors, even at the height of the pandemic. The need for a labor only intensifies with life returning to virtually normal and the borders opened to tourism. We already know that you can find work in every city. However, you will find it easier and have more options in other areas to land the job of your dreams. This article will determine the city with the most job opportunities in Canada.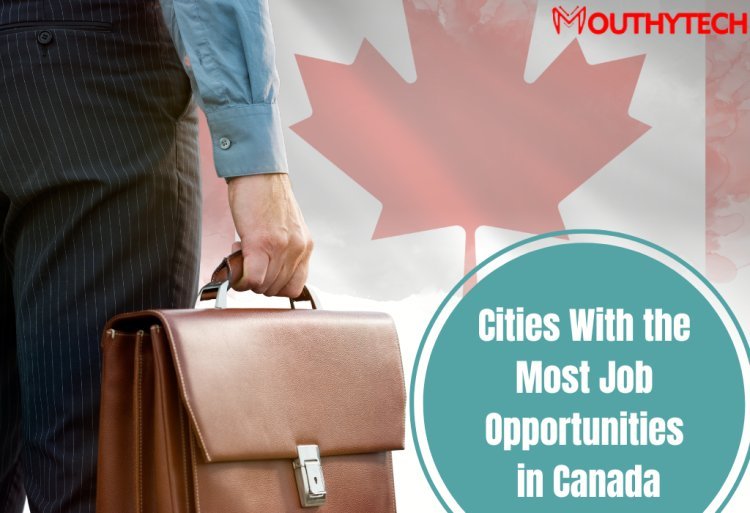 Canada's economy is flourishing. However, a surplus of job openings has come from the economy's competitiveness, along with a highly educated workforce that shuns manual labor, which has led to a shortage of open positions across the nation.
If someone is considering moving to Canada and given the option of which city or town to settle in, the main factor influencing their decision would be the availability of job prospects. By examining current trends in Canadian unemployment rates and the abundance of job postings on the country's most reputable job sites, we were able to establish which city in Canada offers the most employment prospects.
Which City Offers the Most Job Opportunities in Canada?
It's safe to say that British Columbia currently has the most job opportunities to offer newcomers with 70, 000 new jobs added to the economy in the last few months combined with a low unemployment rate - especially in its fifth-largest city, Abbotsford-Mission, which has the lowest unemployment rate of all major cities in Canada.
Abbotsford-Mission, British Columbia
East of Vancouver lies a sizable city called Abbotsford. It is well known for its agricultural pursuits, affordable housing, low gas prices, and the University of British Columbia. After Toronto and Vancouver, it has the third-highest immigrant population. Immigrants from the Philippines, Korea, and Spain frequently choose to settle in the city. Abbotsford's largest industries are film, manufacturing, aircraft, and agriculture. The city, also known as Abbywood, draws several filming projects.
Abbotsford suffered minor job loss during the epidemic among all large cities. This might be because many locals work in the sizable agri-food industry, which produces a wide range of food items worldwide, including wine and seafood. In British Columbia, there are numerous career opportunities, particularly in the fields of technology, healthcare, education, and agriculture, as well as in professions requiring intermediate skill levels, such as those for receptionists, truck drivers, and machine operators. View a comprehensive list of the most in-demand jobs in British Columbia for immigration.
Top 10 Companies Hiring in Abbotsford, British Columbia
Since British Columbia is regarded as the "new Silicon Valley," it should be no surprise that IT giants like Microsoft and Apple are among Abbotsford's largest employers. In the city, the University of British Columbia employs about 10,000 people. On the other side, Abbotsford is home to thousands of farms that employ over 7,000 agri-workers. The Agri-Food Immigration Pilot is where many agri-workers get jobs.
Here are the major companies in Abbotsford, British Columbia:
University of British Columbia
SAP
Fortinet
Vancouver Coastal Health
Microsoft
Lululemon
Cactus Club Cafe
Paladin Security Group
Taisuco Canada Agriculture Corporation
Apple
How to Move to Canada in 2023
Typically, getting a job offer for temporary employment in Canada would be best before you may work there with a work permit. However, many excellent employment sites, including Indeed, Monster Canada, and eJobbo, currently have thousands of positions listed on them.
You can explore other visa options.
Canada may have the most immigration and visa programs of any other country, with more than 100 options! It can be challenging to focus on your top possibilities for employment in Canada as a result. In addition, a legitimate job offer might not even be necessary for some of these programs.
Apply with the help of professionals.
Choosing to work in Canada with the assistance of certified consultants not only means that all of your paperwork will be taken care of and your final application will be optimized and submitted by seasoned professionals, but it also means that you'll receive tailored advice on which program is best for you based on your needs and goals.
Immigration Pathways to Canada
The following programs are the easiest, fastest, and most accessible ways to immigrate to Canada.
Express Entry
The quickest way to immigrate to Canada is through the Express Entry system. If the applicant follows all application procedures, including deadlines and supporting evidence, the processing timeframes for immigration applications could be as quick as six months.
If a candidate is accepted and meets the requirements, they can build an express entry profile by opening an online account with Immigration, Refugees and Citizenship Canada (IRCC). After creating your profile, you can apply for the Federal Skilled Workers Program (FSWP), Federal Skilled Trades Program (FSTP), and Canadian Experience Class based on your reviewed eligibility test outcomes.
Provincial Nominee Program (PNP)
Provincial Nominee Programs are designed for and run by the provinces of Canada to fill labor, knowledge, skill, and experience gaps in those areas. If potential immigrants meet the requirements for the popular positions offered in a specific province, they may submit an expression of interest (EOI) for that position.
The province will invite you to apply (Invitation to Apply) if they share your interest, and you will be notified of this via a notification on your registered IRCC account. However, it is advised that you seek the assistance of an immigration consultant firm like CanadianVisa from that point forward so that they can assist you with accepting and applying for that specific Provincial Nominee program.
Work Permit
To lawfully enter and immigrate to Canada, work permits are required. You will need to apply for a work visa permit depending on the length of your stay in Canada, whether temporary or permanent and the nature of your employment. For Canadian immigration, there are work permit basics: open and employer-specific work permits.
Open work permit: Recipients of open work permits can live and work anywhere in Canada. It is primarily connected to immigrants who obtained permanent residence through IEC Working Holiday and Express Entry programs.
Employer-specific (closed) work permit: allows recipients to live and work in Canada, but only where their employer specifies. Principally connected to provincial nominee programs.
Work Holiday
People who wish to immigrate to Canada to travel and work can do so through the Working Holiday visa program International Experience Canada (IEC) offers. The work permit is primarily intended for young people from nations with youth mobility programs and is valid for 1–2 programs.
How Do You Secure Your Employment in Canada?
Above all, as a prospective immigrant to Canada, you must make sure you are informed of your eligibility to apply for the various immigration programs provided by IRCC. You can save time and money by doing by avoiding needless consultation fees. Last but not least, ensure you're in touch with a Regulated Canadian Immigration Consultant (RCIC) at all times so you may use them as a facilitator and guide to hastening the processing of your application.
FAQs
Furthermore, here are some of the most frequently asked questions about the cities with the most job opportunities in Canada:
Which Canadian cities are the most expensive?
Generally speaking, the two most expensive cities in Canada are Toronto, Ontario, and Montreal, Quebec.
Is living in rural or urban Canada cheaper?
The cost of living in rural Canada is typically lower than in urban Canada.
How High Is the Canadian General Standard of Living?
Human development index data show that Canada has one of the best standards of living in the world, which is 0.936.
What's Your Reaction?