Find out the Cost of Studying in the Netherlands
If you're considering studying in the Netherlands, one of the first things you'll want to know about is the costs of studying there, which can vary greatly depending on the program and institution you choose. So let's look at how much it might cost to study in the Netherlands, both in terms of tuition fees and living expenses, and some general tips on saving money while studying abroad!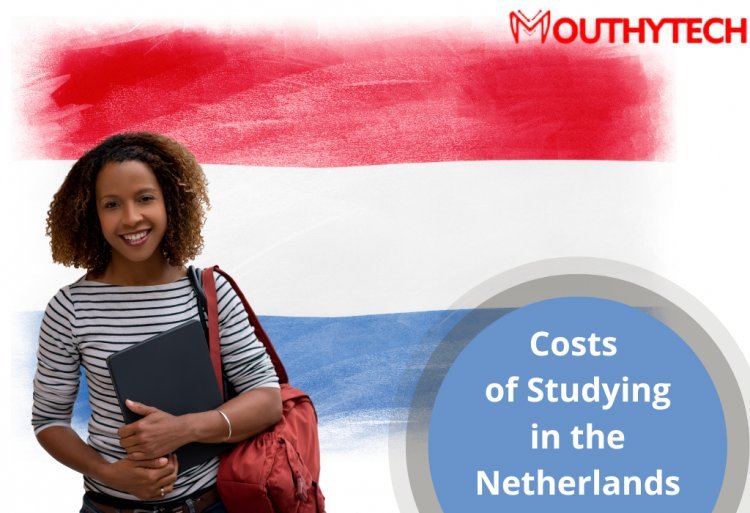 The Netherlands is a popular choice for overseas students looking to further their higher education because it has numerous top-tier universities. Many students want to study in the Netherlands but are too worried about the cost of studying in the Netherlands to follow through on it. The good news is that studying in the Netherlands isn't as expensive as you might think! Most courses are taught in English in the Netherlands, and tuition is not prohibitively expensive. The various prices and expenses must be considered while you design your course of higher education in the Netherlands. Let's examine the costs associated with studying in the Netherlands, including tuition, living expenses, and visa fees, among other things.
Cost of Studying in the Netherlands
Compared to other international students, those from the EU/EEA, Switzerland, or Surinam pay reduced tuition rates. Different costs apply depending on the course, level of study (undergraduate/postgraduate), and university (public/private) selected. The following is an overview of tuition costs for foreign students in the Netherlands:
| | |
| --- | --- |
| Level of Study | Tuition Fees |
| Bachelor's degree | 6,000 – 15,000 EUR/year |
| Master's degree | 8,000 – 20,000 EUR/year |
However, in comparison to public institutions, private universities are more expensive. You might anticipate paying up to 30,000 EUR per year for various study programs.
Cost of Studying in the Netherlands
Compared to European countries, living expenses are lower in the Netherlands. The list of living expenses in the most prominent Dutch cities is as follows:
| | |
| --- | --- |
| City | Average Cost of living |
| Enschede | 650 – 920 EUR/month |
| Eindhoven | 850 – 1,350 EUR/month |
| Amsterdam | 1,000 – 1,500 EUR/month |
| Delft | 780 – 1,200 EUR/month |
| Rotterdam | 760 – 1,250 EUR/month |
In the Netherlands, a room can be rented for between 300 and 600 euros per month. Universities also provide their students with housing on campus. Typical expenses based on the type of accommodation:
Single apartment rent ranges from 500 to 1,000 euros per month
400-700 EUR per month for sharing a rented apartment
350 to 600 euros per month for student housing
Student Visa Costs in the Netherlands
The cost of a visa is EUR80 for adults and EUR40 for children. Both a residence permit and a student visa are not required for candidates who are citizens of the EU/EEA, Australia, Canada, Japan, Monaco, New Zealand, South Korea, the US, or Vatican City. If they intend to stay for fewer than 90 days, visitors from foreign nations must apply for a Schengen visa. Students need a residency permit (VVR) and an entry visa (MVV) if they intend to remain longer than 90 days. When applying, the following documents are necessary:
Academic transcripts
Biometric information
Birth certificate
Complete study plan – explaining why you are interested in studying the chosen subject area and how and why it is related to your prior studies
Completed visa application form
Financial proof for the entire period of study
Official letter from the academic institution in the Netherlands
Photocopies of all the original documents
Travel and health insurance
Tuberculosis test (required for citizens from some countries)
Two photographs
Valid passport
Most Affordable Universities to Study in the Netherlands
The following universities in the Netherlands are among a few of the most affordable:
| | |
| --- | --- |
| University | Average Annual Tuition Fees |
| Radboud University | €2,143 |
| University of Twente (UT) | €2,083 |
| Utrecht University | €2,143 |
| HAN University of Applied Sciences | €2,083 |
| University of Amsterdam | €5,000 |
| University of Groningen | €8,000 |
| Eindhoven Institute of Technology | €10,000 |
| Delft University of Technology | €10,000 |
Scholarships for Studying in the Netherlands
To assist international students with any financial concerns they may have with studying in the Netherlands, the Netherlands offers a variety of scholarships. These can be government funded or offered by the university of choice based on merit. However, it is best advised to check with the university or government in your home country for financial aid options and apply well in advance to be accepted. Here are some of the popular scholarships in the Netherlands:
The Netherlands Fellowship Program (NFP): is funded by the Netherlands Ministry of Foreign affairs and is designed to promote capacity building within organizations within 51 countries by providing fellowships for training and education of professionals. The NFP is eligible for students pursuing their master's studies, Ph.D., or short courses offered by some dutch universities.
Civil society leadership awards: are offered to students who demonstrate academic and professional excellence and passion for leading positive change in their communities. The award is a fully funded master's degree.
Holland Scholarship: is offered to international students who want to pursue their education in the Netherlands. This scholarship is funded by the dutch ministry of Education and several Dutch research universities and universities of applied sciences. The deadline to apply for this scholarship is in February or May.
World citizen talent scholarship for international students: is offered by the Hague University of applied sciences and provides financial aid to potential bachelor's and master's students who are international students. This scholarship is based on merit and students who exhibit ambition and talent.
Other popular scholarships in the Netherlands include:
Orange Knowledge Programme
Radboud University Scholarship Programme
University of Maastricht High Potential Scholarships
Utrecht University Excellence Scholarships
TU Delft Excellence Scholarships
Leiden University Excellence Scholarships
Erik Bleumink Scholarships at the University of Groningen
University of Twente Scholarships
How to Apply to Study in the Netherlands
The admission process may be different from what you're used to, so make sure you consult the university to which you are applying if you have specific questions. In the meantime, take the following steps to get started:
Choose a program
Selecting the correct degree program for you should be your first step. Choose your field of study and the academic level (bachelor's, master's, or Ph.D.) you want to pursue. Be aware that you might need to take a competence exam or additional language instruction. Choose the degree program that is best for you to begin with. There are degrees available in numerous subjects, whether you're a graduate or undergraduate student.
Get the necessary documents ready.
All institutions often demand a letter of motivation, a letter of recommendation, and, if applicable, a portfolio of prior work as part of the fundamental paperwork. Universities will also want documentation of the completion of prior coursework. Send the university an official transcript from your secondary school if you're starting a bachelor's degree program or your prior university if you're pursuing a master's degree or higher to fulfill this criterion. If English is not your first language, you might additionally need to pass an English proficiency test, such as the TOEFL.
Check the specific admission requirements.
It could be necessary to provide specific documentation, depending on the university. Always check the university website for detailed admission requirements, and if you have any problems, get in touch with the relevant university office.
Submit your application
After identifying your preferred course of study, applying to study in the Netherlands is a very easy and uncomplicated process for both undergraduate and postgraduate opportunities. The two primary admissions for universities in the Netherlands each year are in the fall, beginning in September, and the spring, beginning in February. You can use the online application system Studielink to apply for several degree programs at Dutch universities. You can apply to up to four courses at once using Studielink. Before the deadline for enrolment, you have the option to change the courses you want to apply for.
Wait for a decision
By the end of spring, admissions results are frequently made public. Before beginning classes, non-EU students must formally enroll at the institution, and the first semester's tuition is often due. In any other case, you will receive a formal letter of admission from the university where you will continue your studies, a confirmation of your admission for visa purposes, and other valuable details regarding studying abroad in the Netherlands.
Apply for a student visa
Start the visa application procedure as soon as you receive an invitation to enroll in a higher education program in the Netherlands. Do not delay because the procedure might be lengthy and requires various crucial documents.
Arrive in the Netherlands
It's time to start your experiences in the Netherlands if you've been accepted to a university and have the required visa! Make sure to research the cost of living in the city where you'll be staying and determine your spending limit. After getting that, you can start looking for lodging. It's finally time to book your travel to the Netherlands and get to your new city of residence! There are many sites and things to enjoy, no matter where you stay.
Official Related Links You Need
You have the best Guide on Immigration, Education, and Employment details for you to Get more out of what you need to know, and it is all free of charge:
Get More Guide - https://bit.ly/ABROAD-IMMIGRATION-CENTER
Immigration - https://bit.ly/IMMIGRATION-CENTER
Education - https://bit.ly/EDUCATION-CENTER
Employment - https://bit.ly/EMPLOYMENT-CENTER
US Immigration - https://bit.ly/US-IMMIGRATION
Bottom Line
Studying in the Netherlands has its perks, including the first-rate education you'll receive and the fact that the Netherlands is consistently ranked as one of the best countries in the world. But it does come with some added costs beyond tuition and room and board.