MENA-USA Empowering Resilient Girls Exchange (MERGE) 2022 for Young Women in MENA
Global Ties U.S. received funding from the Stevens Initiative to implement two additional cohorts of the MERGE program during the 2022-23 academic year. We look forward to building on our successes in Cohorts I and II and sharing the lessons of the MERGE program to new participants. Cohort III will take place from September 26 – November 18, 2022, while Cohort IV will start in February 2023.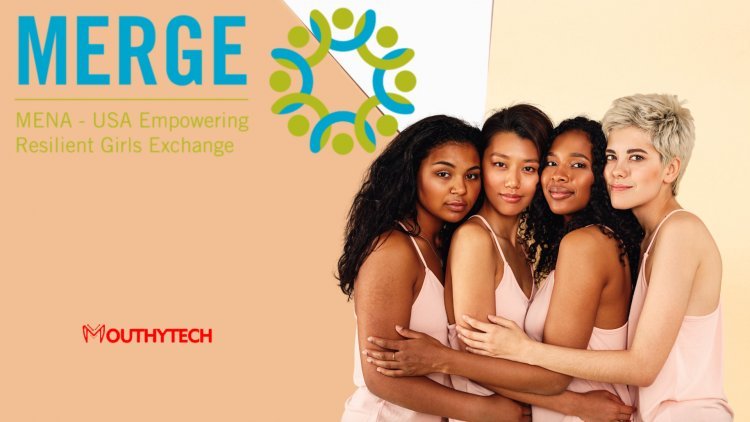 The MENA-USA Empowering Resilient Girls Exchange (MERGE) is now accepting applications from young women and girls ages 15-19 from the United States and the Middle East/North Africa (MENA) region. The goal of the program is to create a supportive virtual environment in which participants can develop emotional resilience skills.
Participants engage in both synchronous (live) and asynchronous exchanges, during which they discuss and experiment with a variety of techniques for relieving stress and coping with difficult situations while being guided by trained facilitators.
Please Educate Me on the Award:
A report that was published in 2012 by the American Psychological Association found that girls who were raised in underserved populations had an increased risk of developing mental illnesses such as depression, anxiety, and low self-esteem. These conditions can all hurt a girl's ability to succeed academically, in the workforce, and in her personal relationships. The MENA-USA Empowering Resilient Girls Exchange (MERGE) encourages participants to learn about their own mental health and develop emotional resilience. Participants are then encouraged to share this information with their communities via a website accessible to the general public.
Girls between the ages of 15 and 19 from the United States and the Middle East/North Africa can participate in MERGE, which is a series of open enrollment virtual exchanges lasting eight weeks each. During the first week, participants will investigate, learn, and discuss actionable strategies for enhancing their own personal resilience as well as the resilience of their communities. A variety of activities that focus on cultural exchange are used to introduce participants to both each other and the person who will be facilitating their small group. The next five weeks will be devoted to introducing a variety of techniques for relieving stress and coping with it. The participants will experiment with these techniques both individually and in small groups over the course of the next five weeks.
Journaling, working out, meditating, thinking positive thoughts and affirmations, and maintaining a healthy diet are some specific techniques. Participants will gain an understanding of the scientific rationale behind each tactic, as well as the advantages of developing these skills in themselves and their communities. During the last two weeks of the exchange, participants will have the opportunity to demonstrate their newfound knowledge by contributing an entry to the culminating mental resilience strategies website. This will be accomplished in five-person teams under the direction of the program's facilitators.
Funding Information
Up $1,000 from the Stevens Initiative Alumni Small Grants program.
Duration: MERGE runs for eight (8) weeks.
What will the Participants be doing while they are at MERGE?
MERGE is a virtual exchange program that will take place over the course of eight (8) weeks and will teach you about mental health while focusing on your own emotional resilience and the empowerment of your community. During the first week of the program, you will participate in a variety of activities that foster cultural understanding and community building. Over the course of the next five weeks, we will investigate various methods for building up our emotional resilience. You will be a part of a section with ten young women from the United States and ten young women from the Middle East and North Africa (MENA), and you will support each other as you work to implement these strategies in your own lives.
Throughout the entirety of the program, your facilitator will act as a guide, supplying you with resources and moderating group conversations. You will communicate with other young women through written and video content, as well as investigate mobile applications like Flipgrid. During the course of your program, you will participate in two live discussions about leadership and emotional resilience. These conversations will provide you with additional perspectives.
Previous featured speakers have included Bilqis Abdul Qadir, a coach and activist who is working to empower Muslim girls in sports, and Alyson Watson, an entrepreneur who is developing digital tools to assess mental wellbeing. Both of these women have spoken at this event. During the last two weeks of MERGE, your team of five people will work together to produce an entry for MERGE's digital resilience strategies website. This entry will be shared with both your community and the rest of the world.
About MENA-USA
In the U.S. state of Arkansas's Polk County, you'll find the city of Mena. Additionally, it serves as the administrative center of Polk County. As of the census completed in the year 2020, there were 5,558 people living there. Mena is considered a part of the socio-economic region known as the Ark-La-Tex. Mena is a city in Arkansas that serves as a gateway to some of the state's most popular tourist destinations because it is located within the Ouachita National Forest.
History
Arthur Edward Stilwell established the town of Mena during the construction of the Kansas City, Pittsburg and Gulf Railroad, which later became the Kansas City Southern and ran from Kansas City, Missouri to Port Arthur, Texas. The year 1896 marked the beginning of train service to Mena. Folmina Margaretha Janssen-De Goeijen was the wife of his friend and financier Jan De Goeijen. Mr. De Goeijen affectionately referred to his wife as Mena. Stilwell named the town in honor of Folmina Margaretha Janssen-De Goeijen. In addition, Janssen Park, which is located in the middle of Mena, was named after her.
In 1896, the town of Mena was established, and on September 18 of that year, it was incorporated. The Bank of Mena was established in the year 1897. In the year that followed, the county seat was relocated from Dallas, which was located nearby, to Mena. By the year 1900, the population of Mena had increased to 3,423. Despite the fact that the city was promoted as a spa destination situated in a natural setting, the primary economic activities in the region were the extraction of minerals, agriculture, and timber.
In 1906, Stilwell made a donation of land to the city, on which the city subsequently built a park and a campground. 1910 saw the relocation of the railroad's repair facilities from Mena, Arkansas, to Heavener, Oklahoma. The result of this was the loss of eight hundred jobs. Hendrix Academy, a private school in Mena, was shut down in the year 1905.
The town was severely damaged by a tornado that occurred in 1911.
Recent times and events
Local mines that had been shut down since the 1890s were reopened in the 1950s as a result of a government program designed to stockpile manganese. In 1959, the program was terminated, and the mines were shut down permanently. Barry Seal, a notorious drug trafficker, relocated his operations to the Mena Intermountain Municipal Airport in the 1980s. There, he owned and operated a large number of aircraft, including helicopters and planes, in addition to sophisticated radar technology.
Three people were killed and thirty others were injured when a large and powerful tornado ripped through the town on April 9, 2009. Numerous homes and places of business sustained damage or were completely wiped out. The Arkansas National Guard has been sent to assist the local government in the affected area. The tornado was classified as an extreme EF3, packing winds of up to 165 miles per hour (266 kilometers per hour), and leaving an estimated $25 million in damage.
Mena's Downtown Arts District, which will be centered on the Mena Art Gallery located at 607 Mena Street and supported by a number of the community's local businesses, is currently in the planning stages. The gallery is a non-profit organization that hosts approximately twelve shows each year, some of which are invitational and some of which are open to the public. These shows primarily feature works by local artists in a variety of mediums. In addition to that, there is a Children's Exhibit and a High School Exhibit that take place annually.
Eligibility Criteria
MERGE participants must:

Reside in the United States or a MENA region country (Algeria, Bahrain, Egypt, Iraq, Jordan, Kuwait, Lebanon, Libya, Morocco, Oman, Palestinian Territories, Qatar, Saudi Arabia, Tunisia, United Arab Emirates, or Yemen);
Identify as a girl or young woman;
Be between the ages of 15 to 19 as of September 26, 2022;
Speak English at an intermediate level or higher;
Be available during the program dates listed;
Have access to a reliable, internet-connected device (smartphone, tablet, laptop, etc.) that can be utilized for at least three (3) hours a week for the duration of the program;
Have an interest in mental health, community building, and international exchange.
What are the Advantages of Receiving an Award?
If you participate in MERGE, you will be eligible for unique project funding opportunities of up to $1,000 from the Stevens Initiative Alumni Small Grants program, receive a Certificate of Completion in leadership and mental health awareness, and access the U.S. Department of State's International Exchange Alumni network. In addition, you will receive a Certificate of Completion in leadership and mental health awareness.
Facilitators will be compensated with a stipend of $1000 USD for their work at the end of the program.
Official Related Links You Need
You have the best Guide on Immigration, Education, and Employment details for you to Get more out of what you need to know, and it is all free of charge:
Get More Guide - https://bit.ly/ABROAD-IMMIGRATION-CENTER
Immigration - https://bit.ly/IMMIGRATION-CENTER
Education - https://bit.ly/EDUCATION-CENTER
Employment - https://bit.ly/EMPLOYMENT-CENTER
US Immigration - https://bit.ly/US-IMMIGRATION
How Long is the Program?
8 weeks. Cohort III will take place from September 26 – November 18, 2022, while Cohort IV will start in February 2023.