Italy PhD Requirements for International Applicants
The Ph.D. is the third-level cycle degree, with a 3-year-duration, and it represents the highest level of education provided by the Italian academic system. It teaches the necessary skills to carry out high-quality research activities at universities, public or private entities. In order to apply, the student must be in possession of a Master's degree, or equivalent academic qualification obtained abroad and recognized as eligible for admission. Entry requirements - To do a Ph.D. in Italy, you need to hold a second-cycle qualification (laurea magistrale) or equivalent, in a related field. You are also eligible to apply if you will have obtained the required qualification by the time your Ph.D. is due to commence.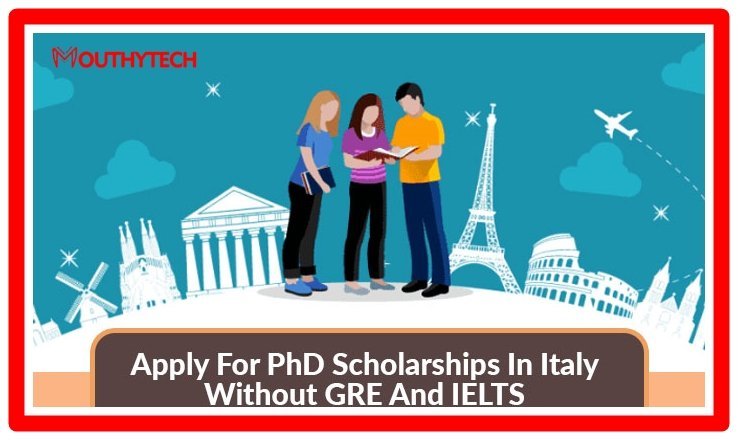 The call for admission is usually issued in July. The University encourages the participation of international students and relationships with the socio-economic and productive system.
Italy organizes different levels of study into a three-cycle system, with the third cycle equivalent to the British Ph.D. qualification.
Ph.D. programs in Italy
Two types of PhDs are available from Italian higher education institutions: the Dottorato (Ph.D.), awarded by universities. And the Diploma accademico di formazione alla ricerca (research academic diploma). That can be obtained at one of the High-level Arts and Music Education institutions (Afams).
Some universities also offer collaborative doctorate Degrees. Modules and programs are organized in partnership with universities abroad (international doctorates). Or industries (industrial doctorate). However, the institution issuing the qualification will be the institution of enrolment.
Entry Requirements for Ph.D. Program in Italy
To run a Ph.D. program in Italy, you need to hold a second-cycle qualification (Laurea Magistrale). or equivalent in a related field.
You are also eligible to apply if you have obtained the required qualification by the time your Ph.D. is due to commence.
Students who have acquired their degrees outside of Italy need to obtain academic recognition for their diplomas. It's a good idea to contact your university of choice before you apply and ask them for a prior assessment of your eligibility.
You will then need to obtain the official document recognizing your qualification. You will need to apply to the university administration office, where it will be reviewed for suitability.
For students who aren't residents of Italy, the application and documents must be submitted to the Italian diplomatic representative in their country of residence.
Language requirements
Depending on the program type and your nationality. You may need to demonstrate proficiency in English and Italian by providing a language certificate.
The requirements vary between universities and are based on your nationality. For instance, you may be asked to demonstrate English proficiency at minimum Level B2 of the Common European Framework of Reference for Languages (CEFR), with suitable certificates including any of the following:
Program length
The Italian academic year runs from October to September and includes two teaching semesters and two examination periods:
First semester – teaching: October - December, examinations January - February
Second semester – teaching: March-May, examinations June - July
Of course, as a Ph.D. student enrolled in a full-time course, your work schedule will likely differ from the above due to any program-related obligations, training, or modules.
The usual length of study is 3 to 4 years, depending on the institution and course structure.
The Italian Ph.D. process
Your Ph.D. program can vary from university to university and course to course. Usually, the Italian Ph.D. process consists mainly of original research work, with some taught courses in the first year.
You may also be expected (or invited) to participate in tutoring or teaching during your Ph.D., with these activities limited to 40 hours per year (an excellent opportunity to gain some transferrable skills).
At the end of your course, you will be expected to have written a doctoral thesis according to your department's requirements.
Supervision
Supervision criteria can vary between institutions, but every course generally has its coordinator and a teaching board.
Your coordinator (i.e., supervisor) will be the person who will work with for you to conduct research and who will be monitoring your progress. The teaching board comprises researchers, professors, and qualified experts (including from abroad) who organize and manage your course proceedings and assessment.
Fees and funding of Ph.D. in Italy
The costs of pursuing a doctorate in Italy are relatively low compared to other European countries. There is no difference between students of different nationalities in terms of fees.
Ph.D. fees in Italy
In state universities, the application process might include a fee of around €30-50, whereas the tuition fee can range from €900-4,000 per year. However, annual enrolment in some institutions can be as low as €165.
It's worth noting that private universities can be much more expensive than public ones, with tuition fees ranging from €6,000-20,000 per year.
Ph.D. scholarships in Italy
International students in Italy can apply for the same financial assistance as Italian students. Some several scholarships and bursaries can assist with living costs and tuition fees for Ph.D. study:
Scholarships from universities - many institutions award scholarships based on academic merit, ranging from €12,000 to 20,000 per year.
Italian Government Scholarships for Foreign Students – this type of financial assistance is offered to students studying in Italy (both Italian students and foreigners). As well as Italian citizens who study abroad. It amounts to €900 per month for the duration of the study. For more information on the scheme, check here.
Company-funded projects - certain companies and organizations may advertise partial or complete funding for specific Ph.D. projects.
Some likely Questions from International Applicants
Get all you need today;
1) What visa do I need to study in Italy?
There are three Italian student visas, each of which is given depending on your situation. The most common is the F1 Visa. This is for students who want to study in a full-time program. For regular undergraduate and postgraduate students, our team mostly advice international visa applicants to go for this type of visa.
However, some international applicants want to travel to Italy to study. With their wives and children. We advise you to go for F2 Visa, which allows them to stay with you while you look in Italy.
The last Italian student visa is the J1 vis. This visa is for foreign applicants who want to travel to the country of Italy to study vocational courses, which may last for only one year. However, it's called the visitor exchange visa.
Note, If the applicant has a dependent spouse or children. He must get a J2 visa to join you. But they cannot work unless they have prior permission, which is spelled out during the visa application in your home country.
2) When is the right time to apply for my Italian student visa?
Like we said earlier, You should start applying for your visa no later than four months. Before your course of study starts. Remember, we told you the Italian academic session begins in the summer. Therefore, it's right for you to start your visa application process around four months ahead of time. as there are quite a few steps to take and quite a few documents to secure. Before you can apply. Though, the Italian visa process doesn't take a long period before it is done.
3) How long does the Italian student's visa study visa take?
Once your application is completed, the processing time is between 3 and 5 weeks. After the consolute approves your visa. Your country's Italy consulate will deliver it to you within 2 or 3 working days, depending on whether you are aboard and where you live.
4) What documents do I need to apply for an Italian student visa?
There are many documents you need for this visa. However, there are quite a few documents for you to collect before applying for your student visa.
These documents may change a little depending on the specific visa you're applying for and your situation, but in most cases, here's what you'll need:
A passport valid for at least six months beyond your planned stay in the USA. If your passport is due to expire, you'll have to apply for a new one.
University I-20 form. A standard document certifies that you've been accepted into a full-time university course in Italy.
A printout of the visa application form you filled out online (DS-160).
Visa interview appointment letter. Once you confirm the above form, you'll be directed to book an appointment at your nearest Italy consulate. After which you receive the letter.
Original mark sheets, certificates, and transcripts. Or, basically, proof of all your relevant high school grades.
Original English language assessment test certificate.
Bank statements for the last 3 years prove that you have enough money to support your stay in Italy. If a parent/guardian supports you through your education, you can also give them bank statements.
For how long is Italy's student visa last before the expiration?
Usually, they will write it on the visa document. The Italy student's visa lasts for three to four years. However, the duration of the visa depends mainly on the program you are going in for. If the program is four years, the key will likely be made for the duration of your program. That is why your admission letter is required for your visa processing.
Can the Italian student's visa be extended?
Yes! When a student is not able to meet up with the demand of the university. Or unforeseen circumstances that lead to an additional year in the country occur. Just like in the case of covid 19. then the visa can now be extended.
By meeting the immigration or the consulate in your country and stating an apparent reason with concrete evidence for the visa extension. Immediately, the consulates will start working toward the extension of the key.
Before applying for an Italian student visa, are specific years for someone to attain?
Yes! There is, on a normal circumstance, any international student who wishes to study in the country of Italy must be 18 years and above.
What is an F1 Visa?
Suppose you are a student looking to pursue your dreams of studying in Italy. F1 Visa is one of the most common terms you could have heard of. Essentially, this visa could open the door to higher education in the States.
For starters, this is a non-immigrant visa that is usually granted for 5 years. This visa is issued to academic students enrolled in universities, colleges, high schools, language training programs, and other educational institutions.
What does the Italy F1 Visa Interview look like?
Once an F1 visa applicant completes. Your documentation for their visa application. The next step is to determine the qualification for the student visa interview.
What Is It?
The F1 Visa interview is a brief interview between you and a visa officer. That requires the applicant to meet the requirements of the visa. Not all F1 visa applicants need this interview. Specifically students under 13 years old. Or older than 80 years of age. They have no requirements to interview. However, if you do need to interview, you will schedule the interview through the Italy embassy or consulate in your home country.
It is important to note that you must receive your F1 visa at least 30 days before your academic program start date. Since the F1 visa is the last step before obtaining your visa, schedule your interview as early as possible. This is to ensure that you will meet the deadline for the visa.
How Does It Work?
Every visa interview is different, and many applicants experience varying types of interviews based on their interviewing officer and their plans for the visa. Some interviews are very formal, whereas others are more like conversations about your academic plans and endeavors.
There is no list of Italy F1 visa interview questions that every interviewer follows. However, every interviewing officer only tries to find two things about your time on your visa.
What is your intent on studying at an Italian university?
Can you afford your stay in Italy?
Most of the questions the interviewer will ask will pertain to these two topics. So it would help if you were prepared to answer any questions regarding your educational plans adequately. And financial support while on the visa.
Can I work while doing my Ph.D. in Italy?
The F-1 student visa permits you to work on-campus for up to 20 hours. A week during term-time and full-time during the holidays. Moreover, your Curricular Practical Training (CPT). As a Ph.D. student includes work placements and opportunities that are a compulsory part of your Ph.D. program.
Conclusion
Italy Ph.D. Requirements for international applicants is an article that reviews the documents needed for the Ph.D. program in Italy.
The post covers entry requirements, Language requirements, program length, Italian Ph.D. processing, fees and funding, Ph.D. Scholarship, some likely questions from applicants, etc
What's Your Reaction?