Top 10 Most In-Demand Jobs in Canada in 2023
What are the most in-demand jobs in Canada? is a question we frequently get asked as the number of people immigration to Canada each year increases gradually? Building a career path in those fields is often less challenging for people, especially with the assistance of employment agencies. Some jobs are listed among the most in-demand jobs in Canada. With this article you can learn more about the numerous career options and highest-paying positions in Canada.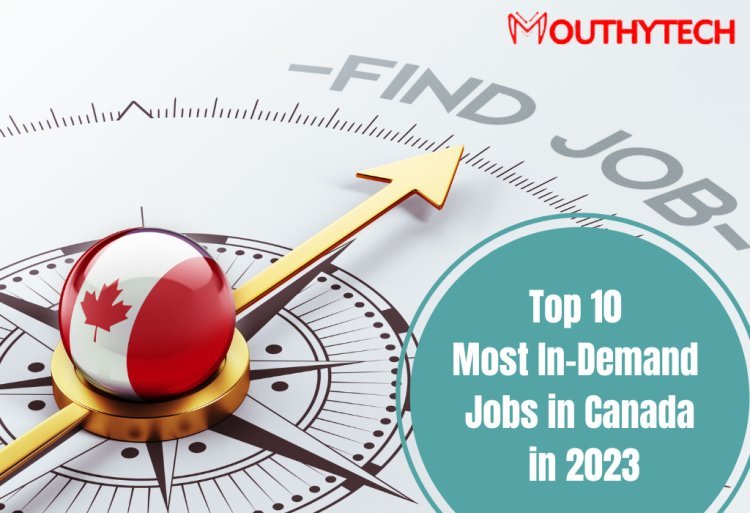 The lack of workforce in the nation continues to worry the Canadian government greatly. Studies show that the Canadian labor market depends heavily on immigration to fill the void. In 2023, immigration will be essential for filling key posts and reducing the labor shortage. The Canadian government will keep pursuing this goal until 2023 and beyond. There is a critical shortage of qualified individuals to fill the over one million unfilled vacancies. With high employment prospects in Canada in 2023, it is projected that international applicants with experience in in-demand professions will be able to make strong claims for admission to programs for skilled immigrants.
In 2023, it's anticipated that over 465,000 people would be granted visas to go to Canada to live and work. According to Indeed Canada, there are now close to 30,000 in-demand positions open. Right now is the greatest time to get employment in Canada because the economy is on your side. Furthermore, Statcan predicts that in 2023, the unemployment rate will be 3.8%, making it easy and plentiful to locate skilled individuals for high-demand occupations. You can be eligible for a work permit and possibly immigration if your line of work is included.
Before opting to immigrate to a new country, you should first investigate the labor market there. If you can find job when you relocate, your financial burden will be lessened. When there is limited demand for your skill set in the job market, finding employment becomes challenging. You must research the fields that are in demand in the country of your dreams.
Career Prospects in Canada
Canada has undoubtedly been one of the most popular immigration destinations in recent years. The benefits of Canada's immigration laws are one of the key factors in why people choose it as their preferred immigration destination. Furthermore, immigrants are drawn to Canada by its high quality of living, medical benefits, safety and security, magnificent geographic diversity, and abundance of employment opportunities.
Over the next five to ten years, job possibilities in Canada provide significant income potential given the talent shortages that employers are facing. IT was one of the professions in Canada that saw the biggest rise in employment last year. Its sustained popularity in 2023 is also influenced by the evolving technological landscape and the increased demand for programmers and developers. As a result of its early adoption of cutting-edge technologies like artificial intelligence, agile delivery, analytics, security, and cloud services, Canada is well-positioned to profit from the technological boom.
Around the world, technology is evolving at an unfathomably rapid pace. Due to Canada's business-friendly laws and economy, major corporations like Google, Microsoft, Amazon, and Facebook have already made the decision to establish fulfillment centers there. As a result of the rapid growth, the technology sector in Canada was dubbed "the fastest expanding industry in the country." The Canadian information technology industry currently offers some of the highest paying jobs.
The Global Talent Stream and the Global Skills Strategy are only two examples of efforts that Canada offers that are helpful for employment. These programs enable work permits to be obtained for new immigrants with the required skills in as little as two weeks. This suggests that if you have the required IT and technology skills, you can select from the greatest Canadian firms.
Top 10 Most In-Demand Jobs in Canada in 2023
There are available jobs in Canada's provinces and territories. And there is a place for everyone, regardless of their career trajectories or skill sets, in both white-collar and blue-collar positions. Welders, truck drivers, and general laborers are examples of skilled labor positions. The same is true for positions in the administrative and professional domains, such as those of administrative assistant, project manager, account manager, and receptionist.
The top 10 positions that will be in high demand until 2023 are listed below!
Registered Nurse
A registered nurse's responsibilities in Canada also include assessing, observing, and interacting with patients. In addition, they are required to document the patient's current health, medical background, and symptoms. To become a registered nurse in Canada, you need to meet certain requirements.
In many Canadian provinces, there is still a great demand for jobs in the healthcare sector. Numerous provinces have launched targeted PNP draws for registered nurses as a result of the significant nurse shortage brought on by the Covid-19 epidemic. Given the growing demand for nurses, there are a variety of immigration alternatives available to foreign applicants with nursing experience to entice them to consider moving to Canada.
Average Annual Income: $72,936
Highest Paying Provinces: Northwest Territories, Nunavut, and Yukon.
Minimum Education: Bachelor's degree and registration with a provincial or territorial regulatory authority.
Web Developers
It is the responsibility of a web developer to make sure that websites work properly and look well. Web developers work with website and graphic designers to assess website traffic, resolve website issues, and enhance websites as needed. Due to the strong demand for web development-related professions in Canada, which makes the country an attractive option for immigrants seeking permanent residency, these occupations are listed on the NOC list (National Occupation Code In Demand List).
Because of Canada's flourishing digital industry, tech workers who desire to immigrate have many options. Thanks to Canada's Global Talent Stream, web developers now have a dependable path to obtaining a work permit for Canada. Additionally, candidates with experience in a variety of fields of work have a number of Provincial Nominee Program (PNP) options at their disposal.
Average Annual Salary: $72,627
Highest Paying Provinces: Ontario, Alberta, and Manitoba.
Minimum Education: Bachelor's degree
Electrical Engineer
Electrical engineering positions require the ability to design, analyze, and specify electrical systems. Since they create, construct, and test these systems, electrical engineers are essential to the process. To ensure the systems' and components' safe operation, personnel in these positions must maintain them. For this position, typically, a high degree of education is required.
Average Annual Salary: $91,832
Highest Paying Provinces: Highest Paying Provinces: Alberta, Newfoundland & Labrador, and Saskatchewan.
Minimum Education: Varies depending on role, minimum of Bachelor of Science in engineering.
Truck Driver
According to several rankings, truck driving is one of the most in-demand jobs in Canada. Almost every province and territory in Canada requires them to transport commercial goods from coast to coast. An immigrant truck driver has strong work prospects in Canada because, according to Statistics Canada, there are about 8% vacancies in the truck transportation sector.
On a daily basis, the Canadian Job Bank website posts hundreds of openings for truck drivers. Currently, Indeed has 12,928 job postings available. Two crucial truck driving abilities are precise navigation and maintained attention. Truck drivers must also possess abilities like organization and communication that are applicable to many other professions.
Average Annual Salary: $52,650
Highest Paying Provinces: British Columbia, New Brunswick, Prince Edward Island, and Nova Scotia.
Minimum Education: Completion of truck driver training alongside appropriate licensing and endorsements.
Welder
A welder, often referred to as a brazer, is in charge of joining metal fragments or fixing damage to metal components using strong equipment that produces extreme heat. Among their various responsibilities, they must evaluate designs, cut metal into the proper shape, and smooth molten metal to remove wrinkles. Welders are among the world's most adaptable professionals, and they are in high demand across Canada. Nearly every business that uses welders there is either established or growing, making Canada a welder's paradise. 4,000 employment for welders are currently available in Canada's various industries.
The need for welders is expected to rise by 23,000 by 2028 in Canada due to economic growth. Welders are particularly in demand in Prince Edward Island and British Columbia. People with welding experience are likely to have a considerable advantage across the nation when picking where to immigrate.
Average Annual Salary: $45,540
Highest Paying Provinces: Alberta, Saskatchewan, and British Columbia
Minimum Education: Varies but typically onsite training and/or a training certificate
Veterinarians (Vet)
Veterinarians are in charge of giving animals medical and dietary care when it is most important. In order to provide considerate treatment recommendations that are particularly suited to a pet's needs, they make a concerted effort to uphold a high standard of quality in both their professional abilities and personal conduct. The vet shortage in Canada has long been a problem for rural communities, but it is now also affecting more and more metropolitan areas.
Like people elsewhere in the globe, Canadians cherish their dogs. Veterinarians are in short supply in Canada, nevertheless. As a result, this occupation has been among those with the highest demand in Canada for a while. Many provinces arrange targeted PNP draws with the express purpose of attracting more veterans. A veterinarian wanting to develop a career path in Canada must have a license from the governing authority within the provinces/territories because this is a profession that is governed at the provincial level.
Average Annual Salary: $95,804
Highest Paying Provinces: Saskatchewan, Edmonton and Calgary
Minimum Education: Veterinarian license
Licensed Practical Nurse (LPN)
For the same reasons that Registered Nursing is the most in-demand profession in Canada, Licensed Practical ranks top. The demand on the healthcare system is rising as a result of the Covid-19 pandemic and an aging population, which necessitates the hiring of additional Licensed Practical Nurses. Similar to registered nurses, people working in the healthcare business may be eligible to take advantage of a variety of immigration possibilities.
Average Annual Salary: $55,564
Highest Paying Provinces: Manitoba, Alberta, and Saskatchewan.
Minimum Education: Bachelor's degree and registration with a provincial or territorial regulatory authority.
Industrial Electrician
Due to the tremendous demand for their services, electricians in Canada have some of the best positions among the specialized professions. Industrial electricians are in high demand nationwide, especially. If they are recent immigrants with the required education and work experience, industrial electricians and other equivalent electricians can find employment in Canada.
Average Annual Salary: $68,000
Highest Paying Provinces: Alberta, Newfoundland & Labrador, and Saskatchewan.
Minimum Education: On-site training and/or a trade certification.
Pharmacist
The task of administering medication and providing medical guidance on medication falls under the purview of pharmacists. Pharmacists have a variety of employment opportunities, including working in pharmacies, hospitals, and starting their own business.
Each province will have its own set of regulations since pharmacists are subject to provincial regulation. You need a pharmacy degree, to pass the Pharmacy Examining Board of Canada (PEBC) test, and to register with your province or territory to become a licensed pharmacist in Canada. The demand for pharmacists is currently great, just like it is for other jobs in the medical field.
Average Annual Salary: $89,314
Highest Paying Provinces: British Columbia, Quebec, and New Brunswick.
Minimum Education: Degree in pharmacy
Accountant
A successful company's operations depend heavily on its accountants. In the post-pandemic economy, as businesses expand, controlling funds plays a bigger role in ensuring continued success. In the coming years, accountants can anticipate career possibilities around the nation with potential growth.
Average Annual Salary: $56,257
Highest Paying Provinces: Alberta, British Columbia, and Quebec.
Minimum Education: Business-related Diploma or Bachelor's degree.
Applying for a Canada Work Visa
You can pursue one of these amazing occupations in Canada in a variety of ways. Despite the fact that some work visa programs, such as the Temporary Foreign Worker Program (TFWP), are simply that—temporary, there are other more long-term options for residing and working in Canada.
Express Entry
You can apply for a PR Certification, which grants you the unlimited right to reside and work in Canada but revokes your ability to vote. More details on this can be found in the Express Entry system, the most popular and quick immigration option in Canada.
Provincial Nomination Programs
To ensure that economic prosperity is dispersed fairly across the entire country, Canada implements provincial nomination programs (PNPs). Each province is responsible for recommending its own candidates for immigration based on the needs of the province and the candidate's qualifications.
PNPs will distribute a list of in-demand professions using the National Occupational Classification (NOC), Canada's system for defining jobs and careers based on functions and responsibilities. If your profession matches an in-demand NOC number on a provincial list, your chances of immigrating to Canada significantly improve. Verify each province's talent gaps and in-demand positions.
Final Thoughts
Without a doubt, Canada is a great place to live and work. Due to its strong economy and abundance of natural resources, the country offers a wide range of opportunities for people looking to start or advance their careers.
Employers in Canada are always looking for candidates with the required education, experience, and skills. Immigration to Canada offers both skilled and unskilled workers from throughout the world a variety of job options. In Canada, there are many vocations that are in high demand, but some of the most common ones are engineering, skilled tradespeople, nursing, and teaching. Canada now has a lot of need for people in fields like engineering, IT, and healthcare. If you're looking for a stable and rewarding job, think about choosing one of these in-demand professions.