Best Accounting Software for Small Businesses in 2023
Accounting software makes it simple for small business owners to maintain tabs on their finances, track their income and expenses, and prepare for tax season. For many small businesses, using software to manage their accounting, tax preparation, and payroll is a more cost-effective option than hiring an accountant or a large firm. However, choosing the best one can be difficult with many alternatives available today. Therefore, we have identified the best in each class to help you choose the right business accounting software services for your company.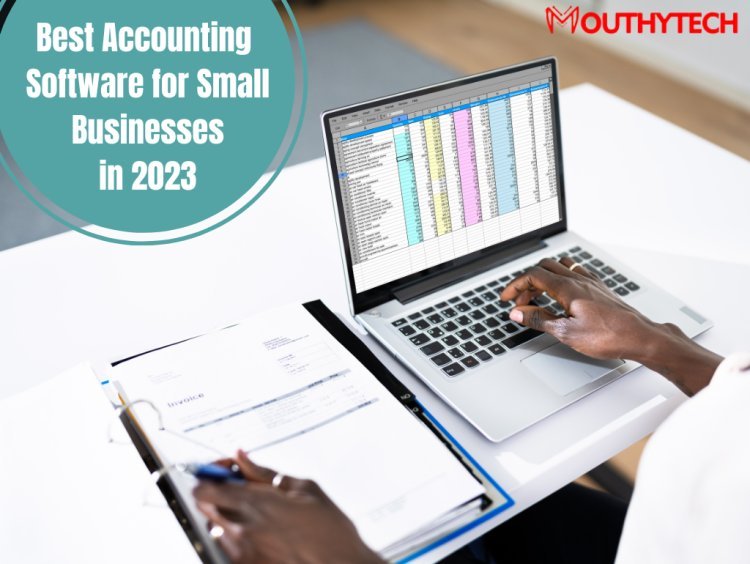 What is Accounting Software?
Accounting software is a computer program that helps companies track their income and costs. It helps bookkeepers and accountants record and report a company's financial activities. Moreover, the software can produce reports like balance sheets and profit and loss statements. The majority of accIn addition, testing software packages have tools for managing inventories, tracking payments, and issuing invoices.
Accounting software's features vary depending on the package. For example, bigger businesses may use a tailored solution that combines a significant quantity of data from numerous departments. On the other hand, small businesses frequently select a ready-made product.
Understanding Accounting Software
Accounting software is a crucial tool for modern enterprises. It enables fast reporting and analysis as well as thorough tracking of financial transactions. Before accounting software, these duties had to be carried out manually, using extensive transaction journals. Due to the labor-intensive nature of combining the manual entries, ad hoc reporting was typically not feasible. These duties are automated by accounting software, which lowers accounting expenses and enables improved financial decision-making through timely reporting.
Moreover, accounting software enables the storage of large volumes of data without requiring physical space. Companies consequently require less office space as they no longer require vast file rooms to keep data binders. Cost reductions are possible with less office space.
It is simpler to finish audits, especially those that call for analyzing data from years in the past, thanks to accounting software's accessibility to accounting information. This helps with internal audits and external organizations like the Internal Revenue Service (IRS) that might need to look into financial information for tax purposes.
The Best Accounting Software of 2023
Small businesses frequently don't need to make significant customizations to use out-of-the-box accounting software. However, when a business expands, its accounting requirements could get more complicated, necessitating a personalized enterprise resource planning (ERP) system. Understanding which is best for your company will frequently depend on its features, cost, and industry compatibility. To help, we've narrowed down the best options for various small businesses.
Zoho Books
(Best for Freelancers, Medium Businesses, and Small Businesses)
Zoho Books is an online accounting software that allows you to easily manage the money flowing in and out of your business. Manage your customers and invoices while keeping expenses in check. Record, monitor, and reconcile your bank accounts and transactions, and collaborate with your accountant in real time. Most importantly, Zoho Books helps you make better, more informed decisions and stay on top of your business.
Pros:
Free forever plan available
Low-cost paid plans starting at $15 per month (5,000 invoice max)
Accept payments offline and online
Track expenses and mileage
Integrates with other Zoho apps
Manage 1099 contractors
Recurring invoices
Cons:
Payroll costs extra
Free plan has a maximum of 1,000 invoices per year
FreshBooks
(Best for Ease of Use)
FreshBooks is one of the most accessible accounting software to use. FreshBooks is cloud-based accounting designed exclusively for the self-employed. So spend less time on frustrating paperwork and more time doing the work that gets you paid. The software is designed for small business owners who don't have an accounting background. You can create and send invoices, track expenses, manage projects and clients, and view reports.
Besides its primary plans, it also offers a custom plan with custom pricing for businesses with complex needs. FreshBooks Accounting ensures your business decisions are based on actual business data and insights. So set aside enough for tax time, learn the costs of running your business, find out if you have money to hire, and confidently forecast your earnings.
Pros:
Very beginner-friendly and easy to use
Competitively-priced plans to start at $15 per month
Track unlimited expenses
Create unlimited estimates
Numerous automation available
iOS and Android apps
Invite your accountant with most plans
Cons:
Doesn't offer document management
Training not offered
Payroll is not included (available as an add-on)
Not ideal for businesses with a large number of clients, given its client limits
Xero
(Best for all small and medium-sized businesses and accounting & bookkeeping practices.)
Xero is an award-winning online accounting software for small business owners and accountants. Available on any computer or mobile device with an internet connection. Business finances and cash flow are updated in real-time. Imports transactions from bank accounts. Unlimited user logins. Integrates with over 1,000 3rd-party business applications. Supports multiple currencies. Data is accessible through a single ledger, allowing accountants and clients to collaborate around finances.
Pros:
Offers a variety of plans so you can upgrade as your business grows
Intuitive and user-friendly
Send up to 20 quotes and invoices per month on its lowest-priced plan
All programs allow for reconciling bank transactions
24/7 support
Cons:
Must have its highest-tiered plan to deal in multiple currencies
Payroll costs an extra $40 per month
Intuit Quickbooks Online
(Best for The #1 Accounting and Financials software for Small Businesses)
QuickBooks Online is a small business accounting software and app that allows you to manage your business anywhere, anytime. Used by over 4.5 million customers, QuickBooks provides intelligent tools for your business yet is easy to use. You can organize your books, manage expenses, send invoices, track inventory, and even run payroll. With QuickBooks Online, you can get organized, save time, and even get paid fast by adding payment features. Best of all, you can try it for free for 30 days.
Pros:
Comprehensive accounting software
Offers phone support
Track mileage
Access via mobile app
Integrates with other software and apps
Cons:
Payroll features cost extra
Pricing doubles after the intro period
It's easy to create duplicate transactions accidentally
Lacks e-commerce features
NetSuite
NetSuite cloud accounting software provides the tools to manage accounting data and accelerate the close process effectively. Automated tasks reduce data inefficiency and risks of error, while customizable reports, dashboards, and real-time metrics help companies monitor business and improve financial control. In addition, NetSuite supports multiple currencies, languages, and compliance standards and ensures data is accessible securely worldwide.
From pre-revenue startups to small and mid-size organizations, fast-growing businesses use NetSuite to automate core processes and get real-time insights into operational and financial performance.
Pros:
Offers a variety of compliance features
Automatic reconciliation and journal entries
Access your account from anywhere
Integrates with other NetSuite products, such as HR, e-commerce, inventory, and order management
Cons:
Pricing isn't transparent
Involves a learning curve
Benefits of Accounting Software
The success of your business depends on how well you manage your finances, and the right accounting software may simplify that process. In addition, there are many benefits of using accounting software, including the following:
Mistake reduction: By automating repetitive tasks and providing real-time insights, accounting software can help reduce mistakes.Time-saving: Automation features can save you time on tasks such as creating journal entries and reconciling statements.
Compliance: Many accounting software programs offer features to help businesses with compliance, such as tax preparation and reporting.
Anytime, anywhere access: With cloud-based accounting software, you can access your account from anywhere, at any time.
Keeps you organized: Accounting software can help you manage your financial records and transactions in one place.
Integration: Many accounting software programs integrate with other business applications, such as CRM and e-commerce platforms.
It's affordable: Accounting software is much cheaper than hiring an accountant.
Types of Accounting Software
There are several different types of accounting software, including:
ERP accounting software: This software is designed to integrate with other business applications, such as CRM and e-commerce platforms. ERP accounting software can be more expensive than types of software and more challenging to set up and use.
Cloud-based accounting software: This software is hosted on the vendor's servers and accessed via the internet. Cloud-based accounting software is typically more affordable than on-premises software and offers anytime, anywhere access.
On-premises accounting software: With on-premises software, you're installing it on your company's servers. On-premises accounting software is typically more expensive than cloud-based and can be more challenging to set up and maintain.
Small business accounting software: This software is designed for small businesses with simple accounting needs. Small business accounting software is typically less expensive than other types of software and offers fewer features.
Commercial accounting software: This software is designed for businesses of all sizes. Commercial accounting software can be either cloud-based or on-premises.
Industry-specific accounting software: This software is designed for businesses in specific industries, such as construction, manufacturing, or retail. Industry-specific accounting software typically offers features tailored to the needs of that industry.
Enterprise accounting software: This software is designed for large businesses with complex accounting needs. Enterprise accounting software is typically more expensive than other types of software and offers more features and customization options.
Open source accounting software: Free software such as this is typically more customizable than other types of paid software. However, open-source accounting software can be more challenging to set up and use.
How to Choose the Best Accounting Software
There are various factors to consider when selecting the best accounting software for your business, including price, features, the kind of software you require, and your organization's unique requirements. Meanwhile, the essential features of accounting software include the following:
Accounting: features include making and managing invoices, keeping track of costs and income, and compiling financial statements.
Billing and invoicing: Using this system, you may organize client data, track payments, and issue bills more quickly.
Inventory management functions include monitoring stock levels, calculating the cost of goods sold, and generating purchase orders.
Payroll: While not all accounting software can handle payroll, some provide services like recording employee hours, figuring out payroll taxes, and managing paychecks.
Project management: covers functions including setting up and managing project budgets, distributing responsibilities to team members, and keeping tabs on project development.
Reports: creating bespoke pieces, measuring business performance, and making financial statements are all included in the reporting category.
Customer relationship management (CRM): This includes managing customer interactions, keeping track of sales prospects, and tracking customer contact information.
FAQs
Furthermore, here are some of the most frequently asked questions about accounting software:
For example, how much does accounting software for small business cost?
The monthly cost of small business accounting software can range from $0 to $150 or more. Basic plans are a wonderful place to start, typically costing between $0 and $40 monthly. A small firm will be able to categorize income and expenses, send invoices, and create financial reports with the help of a basic plan. Most software is scalable, so a plan can be easily expanded to match changing business needs as a company grows. However, it will be more expensive than a basic package.
Do I need accounting software for my small business?
Yes, if you want to save money and time. Several time-consuming bookkeeping operations, like creating invoices, tracking payments, and creating reports, can be automated with accounting software. Your time is thus freed up, allowing you to concentrate on managing your company. Moreover, the software can assist in keeping your books compliant.
How can I learn how to use accounting software?
You may try the program before buying it because most accounting software companies provide free trials. Many also offer free support and tutorials, allowing you to get assistance whenever needed. Finally, you can learn how to utilize accounting software through various websites, including blogs and forums about accounting.