How to get Germany Tuition Free Universities and Scholarships for Foreigners
Germany is a great place to study for your undergraduate or postgraduate degree. With over 600 universities, the country has more than enough options to choose from.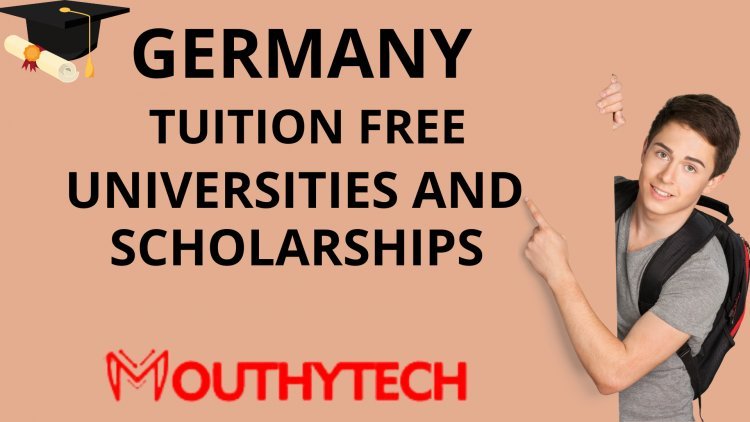 If you are looking forward to studying in Germany, there are so many things that you need to consider before making your final decision. This article will answer all your questions about Tuition Free Universities and Scholarships in Germany.
Study in Germany – All You Need to Know
Germany is one of the most popular destinations for international students, especially those from neighboring European countries. The country has a well-developed higher education system that allows you to study at any German university or college.
Germany offers a wide range of study options and institutions, so there is something for everyone: from small private colleges to large research universities like TU Munich or LMU Munich. You can also choose between German language schools or international programs in Germany (usually with German courses).
Some Reasons Why Studying In Germany is a Good Idea
Germany is a country that welcomes international students. The government has made it a priority to promote education and research in order to improve the standard of living for its citizens, which means that there are many opportunities for talented young minds to study abroad.
The universities in Germany have high standards of education and they offer quality degrees as well as PhDs. This means that if you want to learn something new or challenge yourself with an advanced degree, then Germany will be one of your best options!
Germany also has many cultural diversity opportunities available where you can learn about other cultures through language classes or other courses offered at various universities throughout the country (e.g., Berlin). You will meet people from all over the world who share similar interests with yours when studying here!
Germany has low crime rates compared to other countries such as France or Britain where criminals often target foreigners due their perceived wealth alone - however not so much in Germany because locals tend not see them as being very different from themselves."
Scholarship Programs of the DAAD
The DAAD is a joint organization of German higher education institutions that promotes international academic relations, primarily through exchanging students, academics, and researchers. The DAAD scholarship database contains scholarship and funding opportunities for international students, graduate students, and scientists looking for financial assistance for their studies, research, or teaching assignments in Germany. The database lists not only all of the DAAD's scholarships but also various programs offered by various institutions.
Forms and Documents Required to Apply for the University of Germany
You will need to submit the following documents when applying for a scholarship:
Application form: This can be found on the websites of universities in Germany and other countries that offer tuition-free studies. The application process is similar to that of other European countries, with some specificities related to studying in Germany. For example, you must include copies of your high school diploma and certificate proving proficiency in German as well as proof of financial means (if applicable).
High school diploma or equivalent degree from an accredited institution in your home country/region; this must be verified by one more official document (such as passport). If you don't have any such diploma or certificate yet, send us a copy so we can check whether it meets our requirements for acceptance into universities abroad.
Tuition Free Universities in Germany for International Students
In Germany, tuition fees are not paid by students. Instead, they are paid by the state and therefore have no direct impact on your finances. This means that if you are an international student who wants to study in Germany, it's easy to qualify for a scholarship or bursary.
Here's how:
You must first prove that you belong to one of these groups:
International Students from countries outside Europe (e.g., India)
Students with permanent residency status in another EU member state
Tuition Free Universities
Get al you need to know today;
Munich Technical University
The Technical University of Munich (TUM) is a leading European university. TUM specializes in engineering and natural sciences, as well as life sciences, medicine, management, and social sciences.
TUM does not charge tuition. Students only need to pay semester fees, which include a Student Union fee and a basic semester ticket for public transportation.
TUM also offers international students scholarships. The scholarship is open to current undergraduate and graduate students with non-German university entrance certificates.
University of Ludwig Maximilians (LMU)
The Ludwig Maximilians University of Munich, founded in 1472, is one of Europe's most prestigious and traditional universities. LMU is a well-known university in Germany.
Ludwig Maximilians University has over 300 degree programs, as well as numerous summer courses and exchange opportunities. Many of these degree programs are delivered entirely in English.
Tuition fees are not required for most degree programs at LMU. However, each semester, all students must pay the Studentenwerk fees. The Studentenwerk charges a basic fee as well as an additional fee for the semester ticket.
Berlin Free University
Since 2007, the Free University of Berlin has been named one of Germany's top universities. It is one of Germany's leading research universities.
The Free University of Berlin has over 150-degree programs.
Except for some graduate or postgraduate programs, there are no tuition fees at Berlin universities. Students, on the other hand, are responsible for paying certain fees and charges each year.
Karlsruhe University of Technology (KIT)
KIT is one of Germany's eleven "Excellence Universities." It is also the only German excellence university with a natural large scale sector. KIT is one of Europe's largest scientific institutions. More than 100 study courses are available at the Karlsruhe Institute of Technology in natural and engineering sciences, economics, humanities, social sciences, and teaching.
KIT is one of Baden-universities. Wurttemberg's As a result, international students from non-EU countries will be required to pay tuition fees. There are, however, a few exceptions to this rule. Students must also pay mandatory fees such as an administrative charge, a fee for studierendenwerk, and a fee for the General Students Committee.
Bonn University
The University of Bonn is widely regarded as one of Germany's leading research institutions. The University of Bonn is one of Germany's largest universities. Since 2019, the University of Bonn has been recognized as one of 11 German Universities of Excellence, as well as the only German university to have six Clusters of Excellence.
Around 200-degree programs are available at the University.
Tuition fees are not charged to students at the University of Bonn. All university studies in the federal state of North Rhine-Westphalia, to which Bonn belongs, are fully subsidized by the German government. However, each semester, all students will be required to pay an administrative fee. The fee includes free public transportation throughout Northrhine-Westphalia, including the Bonn/Cologne area.
Cologne University
The University of Cologne is one of Germany's oldest universities. It is also one of Germany's most prominent universities. The University of Cologne offers over 157 different courses.
The University of Cologne does not charge tuition. All enrolled students, however, must pay a social contribution fee each semester.
Hamburg University
The University of Hamburg is a world-class research and teaching institution. The University of Hamburg offers over 170 bachelor's, master's, and teaching degree programs.
Tuition fees were abolished by the university in the winter semester of 2012/13. However, payment of semester contributions is required.
University of Leipzig
Leipzig University was founded in 1409, making it one of Germany's oldest universities. It is also one of Germany's top universities in terms of research and medical expertise.
Leipzig University offers a wide range of subjects, including humanities and social sciences, as well as natural and life sciences. It offers over 150 degree programs, with over 30 having international curricula.
Leipzig currently does not charge tuition for a student's first degree. However, students may be required to pay fees for a second degree or for exceeding the standard period of study in some cases. Some special courses have additional fees. Every student is required to pay a mandatory fee each semester. This fee includes student body, studentenwerk, and MDV public transportation pass.
Duisburg-Essen University (UDE)
Tuition is free at the University of Duisburg-Essen, and this applies to international students as well. However, all students must pay a student body and social contribution fee. The social contribution fee funds the semesterticket, the student welfare contribution for student service, and student self-administration.
UDE offers courses in the humanities, education, social and economic sciences, engineering, natural sciences, and medicine. Over 267 study programs, including teacher training courses, are available at the university.
With 130 countries represented among the students at the University of Duisburg-Essen, English is increasingly replacing German as the language of instruction.
Bielefeld University
Bielefeld University was founded in 1969. The University offers a wide range of disciplines in the universities in the humanities, natural sciences, technology, including medicine.
There are no tuition fees for both domestic and international students at Bielefeld University. All students must however pay a social fee. In return, students will receive semester ticket which allows them use a public transport throughout North-Rhine-Westphile.
Conclusion
Studying in Germany is a good idea for many reasons. The country is known for its high-quality education and relatively low tuition costs. Students from all over the world come to study here because they want an international experience, but they also want the opportunity to live in a country where German is spoken as their native language.