Top Provinces to Find Mining Jobs in Canada
Canada is rich in mineral resources. This has contributed to Canada's status as the world's largest producer of minerals and metals by enabling hundreds of thousands of citizens from all corners of the nation to apply their knowledge, expertise, and entrepreneurship to create the mining sector. This article explores the best provinces to find mining jobs in Canada.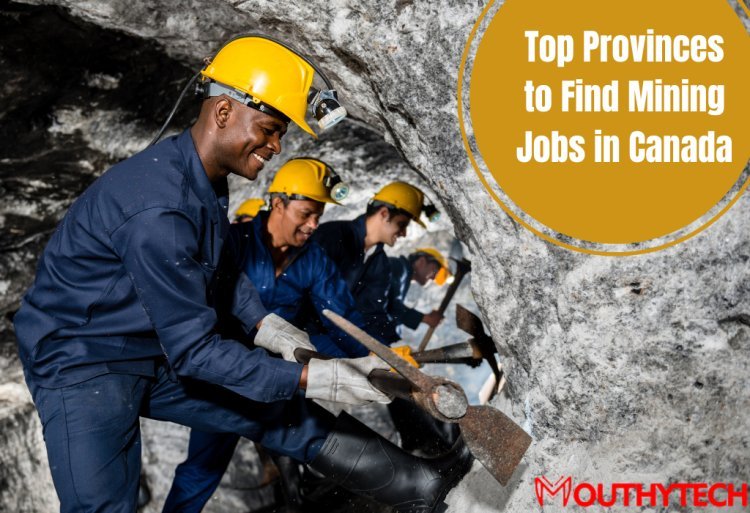 Canada is regarded as one of the top mining countries. Canada, the second-largest nation on earth, is the world's leading potash producer and is among the top five nations for non-metals like gold and gemstones and metals like platinum and aluminum. Not to mention, coal mining is a leading industry in Canada.
Foreign employees can find well-paying jobs in Canada's mining industry in various positions, including millwrights, assayers, buyers, and chemical engineers. In addition, Canada is renowned for offering a variety of routes to permanent residency for international employees with advanced and in-demand talents. Where, though, should you begin your employment search? The top 3 Canadian provinces for finding mining jobs are listed below.
Top Mining Provinces in Canada
Most mining activity and output in Canada are carried out in Quebec, Ontario, and British Columbia. Therefore, make sure to focus your search on the mining powerhouse provinces and towns included in the infographics below when searching for mining jobs in Canada on job search engines like Indeed:
1. Quebec
Here are a few quick facts about Quebec:
Quebec is one of the few places in the world that produces niobium, titanium dioxide, cobalt, and platinum;
Quebec is also Canada's top producer of iron concentrate, zinc, and gold.
According to the Fraser Institute's 2017 list of the top countries for mining investment, Quebec is ranked sixth.
In 2016, minerals were extracted in Quebec from around 530 surface mining sites and 27 operational mines.
It is not surprising that Quebec produces one-fifth of Canada's mining output because it is the country's largest province. In addition, the big French-speaking area boasts Canada's most diverse mining sector, which includes iron ore, zinc, diamond, gold, and many more types of mining. Moreover, the province's mining operations are spread out from the big city of Montreal to the farther-flung northern regions.
Mining cities in Quebec:
Abitibi and James Bay Region (gold, copper,
zinc, diamonds)
Rouyn-Norando and Val-d'Or (gold, copper, silver, zinc)
Havre St. Pierre and Sorel-Tracy (titanium)
Montreal and area (metal smelting and refining, allied industries)
Northern Quebec (nickel, copper, cobalt, platinum group metals)
Saguenay Region (aluminum refining, niobium)
Schefferville and Fermont (iron)
2. Ontario
Here are a few quick facts about Ontario:
Ontario, with a market value of CAD 10.1 billion in 2018, is Canada's top producer of minerals.
Toronto serves as the home base for the second-largest mining firms.
With a 96% decrease in the frequency of lost time injuries over the past 30 years, Ontario is one of the safest mining jurisdictions in the world. As a result, mining is also one of Ontario's safest industries.
The average weekly wage for mining in Ontario is 77% more than the province's average wage for all industries.
More than 40,000 people are employed in Ontario's mine supply and service business. Mineworkers typically make CAD 1,791 per week, while mining support personnel make CAD 1,815 per week. The mining businesses in Ontario rank among the greenest. Environmental engineering, environmental technology, and mining land restoration are anticipated to cost companies CAD 103 million annually. As a result, this province has a high demand for miners, including drillers and blasters.
Mining cities in Ontario:
Northern Ontario (gold, palladium, platinum, copper, zinc,
diamonds)
Sudbury (nickel, copper, cobalt, allied industries)
Timmins (gold, silver)
Toronto and southern Ontario (salt, uranium refining, exploration, and mine financing, allied industries)
3. British Columbia
Here are a few quick facts about British Columbia:
Both the venture capital sector and the culture of innovation are strong in British Columbia.
The majority of mining firms have their headquarters in Vancouver.
British Columbia is Canada's top coal exporter, with a CAD 6.5 billion market.
In 2017, more than 10,000 individuals were directly employed by the mining sector in British Columbia.
One of the best provinces in Canada for mining employment in British Columbia. The province is the only producer of molybdenum in Canada and the country's most significant producer of silver, steelmaking coal, copper, and molybdenum. A miner in BC might make $1,616 per week from their employment. As a result, this province has a high demand for mine workers, among other professions.
Mining cities in British Columbia:
Elk Valley (metallurgical coal)
Kitimat (aluminum)
Northern BC (copper, gold, molybdenum, metallurgical coal)
Southern BC (copper, gold, molybdenum)
Vancouver (exploration, mine financing, allied industries)
Trail (lead, zinc)
What are the Mining Activities in Canada?
Do you have any particular mining expertise? Every one of Canada's 13 provinces and territories also agrees. For instance, British Columbia produces most of Canada's coal, while Saskatchewan is the country's top potash producer. Please take a look at the various mining ventures taking place in Canada below.
Province
Mining-related activities
British Columbia
Metallurgical coal
aluminum
copper
gold
molybdenum
lead
zinc
Alberta
Coal
Saskatchewan
Uranium
gold
potash
coal
Ontario
gold
palladium
platinum
copper
zinc
diamonds
nickel
cobalt
Silver
salt
uranium refining
Northwest Territories
diamonds
Nunavut
gold
iron
Quebec
gold
iron
copper
zinc
diamonds
silver
titanium
nickel
cobalt
platinum
aluminium
Newfoundland and Labrador
gold
iron
copper
nickel refining
cobalt
New Brunswick
zinc
lead
metal smelting
Prince Edward Island
peat
sand
gravel
Nova Scotia
gypsum
gold
coal
Yukon
copper
gold
silver
Manitoba
nickel
cobalt
copper
zinc
gold
How to Work in the Canadian Mining Industry
Do you want to work in the mining sector in Canada? Several possibilities with over 100 visa schemes enable international employees to enter the nation temporarily or permanently. We will explore two well-known visa schemes that allow you to travel with your family as well as work in Canada to help you narrow down your options:
1. Express Entry System
One of the quickest and easiest methods to work in Canada's mining industry as a qualified worker, such as an engineering technician, mine overseer, or geologist, is through the Express Entry immigration system. If your application is approved, you will be given a visa for permanent residence in Canada. You don't need to locate a mining job in Canada to be eligible for an Express Entry program, but doing so could increase your PR points by an additional 50–200 points, which is a crucial advantage of the Express route.
Here are the benefits of Express Entry:
No job offer is required, but you will need settlement money.
Applications are processed in six months.
Anywhere in Canada is a viable place to live and work, barring provincial nominees
Everything is done online for your convenience.
Canadian Work Permit
With a temporary work visa, intermediate skilled mining workers like laborers and machine operators can strive toward a permanent future in Canada. You must have a job offer to be eligible for a work visa that will allow you to work temporarily in Canada. Your Canadian work permit, which is given together with a temporary residence visa, specifies who you are allowed to work for, where you are allowed to work, and how long you are allowed to stay in Canada.
Getting job experience in Canada is a practical first step toward obtaining permanent status. Through a few immigration processes, such as the Provincial Nominee Program, Canada gives preference to applicants with prior local employment experience.
Final Thoughts
In conclusion, it's always a good idea to be aware of your immigration and visa options before looking for a mining job in Canada so that you can choose what's best for your future. A high demand for workers in skilled and intermediate skilled positions exists in Canada's booming mining industry. This indicates that Canada is the best country to advance your career and improve your standard of living.
What's Your Reaction?