What is Customer Relationship Management? CRM Explained
CRM refers to an organization's principles, practices, and guidelines when interacting with its customers. Customer Relationship Management can help a business build strong customer relationships and support its efforts to convert leads from prospects to purchasers. Continue reading to learn more about Customer Relationship Management, types, benefits, and how to choose the best CRM for your business.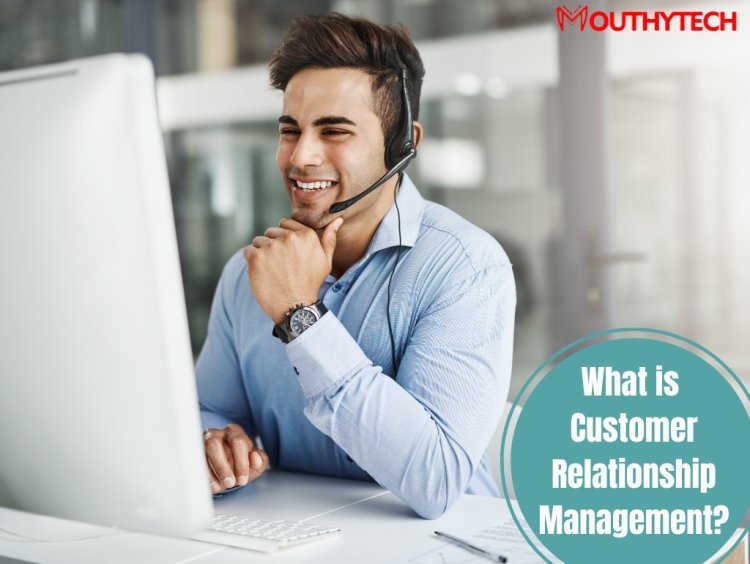 CRM stands for customer relationship management. As the name suggests, CRM software is a system for managing customer relationships. From the organization's perspective, this includes direct interactions with customers, such as sales and service-related processes, forecasting, and analyzing customer trends and habits. CRM's ultimate goal is to improve the customer's experience in general.
Understanding Customer Relationship Management (CRM)
Customer relationship management (CRM) software gathers customer and lead data, then makes it visible to internal teams. The resulting holistic view of customers and leads allows business teams to create personalized buyer journeys. The result is a higher likelihood of closing sales and creating high lifetime-value customers.
Elements of CRM range from a company's website and emails to mass mailings and telephone calls. CRM systems compile data from various communication channels, including a company's website, telephone, email, live chat, marketing materials, and social media. Moreover, social media is one-way companies adapt to trends that benefit their bottom line. They allow businesses to learn more about their target audiences and how to best cater to their needs, thus retaining customers and driving sales growth.
The entire point of CRM is to build positive experiences with customers to keep them returning so that a company can create a growing base of returning customers. CRM may be used with past, present, or potential customers. The concepts, procedures, and rules a corporation follows when communicating with its consumers are called CRM. This complete connection covers direct contact with customers, such as sales and service-related operations, forecasting, and analyzing consumer patterns and behaviors from the company's perspective.
CRM software is frequently cited as the fastest-growing enterprise software sector, primarily including the larger software-as-a-service (SaaS) market, with an estimated global market value of over $40 billion in 2018. Salesforce, Microsoft, SAP, Oracle, and Adobe Systems are the top five competitors in the CRM business today. In addition, Salesforce is a leader in cloud computing.
Types of CRM
CRMs come in four main categories. First, operational CRMs automate procedures, so your team can concentrate on its specialties. Second, analytical CRMs collect, archive, and analyze data so you can spot trends, enhance customer experiences, and ultimately increase conversions. Third, collaborative CRMs manage interactional data for team members to know how and where to interact with leads most effectively. Finally, marketing CRMs data-driven campaign management solutions.
Operational CRM
By automation, an operational CRM aids in team alignment across marketing, customer care, and sales. Hence, it enables various features to collaborate using a single customer or lead view. Ultimately, it provides a seamless and satisfying experience as leads are guided from awareness through conversion. In addition, thanks to its automation capabilities, your team members can focus on tasks that require human interaction instead of repetitive, monotonous duties.
Creating, distributing, and tracking email campaigns and sequences are among the marketing chores that operational CRMs assist in automating. Examples of customer service and sales automation include sales forecasting, tracking customer conversations, ticketing systems that route complaints to knowledgeable reps, task distribution, chatbots that receive complaints, and the automated delivery of educational content to address customer inquiries.
Analytical CRM
CRMs with analytics emphasize data. It collects information about each client or lead and then analyzes it so marketers, sales representatives, and other team members may better serve clients or leads. Examples of data include contact information, preferences, behaviors, and interactions with your brand and its representatives from leads and customers.
More specifically, analytical CRMs collect customer or lead data first, then store that data in a single location accessible to all internal stakeholders. Eventually, data trends are highlighted via analysis dashboards, such as consumer location or website usage. Next, you can examine this information as an overview of a sizable customer base or on a customer-by-customer basis. Finally, your internal teams can leverage the trends it shows to enhance the client journey.
Collaborative CRM
Teams within and outside of your business may collaborate more easily with the help of collaborative CRMs to improve customer experiences at all points where they interact with your brand. Internal teams like your sales, customer service, technical support, and marketing teams are examples of such teams. Also, it frequently streamlines communication between your company's suppliers, distributors, technical support representatives, and vendors.
A collaborative CRM saves all communications between customers or leads and your business to assist businesses in managing interactions. It gathers information from all available sources, including websites, email, phones, social media, and in-person contacts. The data is then evaluated to inform your team of the best places and ways to interact with leads and customers for the best customer experience.
Marketing CRM
Like other CRMs, marketing CRMs collect information about your clients and provide you with a comprehensive picture of each one. However, marketing tools further assist you in targeting and automating efforts. Then, by providing you with insights into the preferences your customers have for campaign content and product offerings, tools like blog publication, SEO, ad monitoring, social networking, and video production tools enable you to respond to the data that has been gathered.
You can gather customer data and categorize customers using tools like a landing page and form builders. Finally, you may nurture leads and customers to encourage conversion or repeat business with marketing automation solutions. Each customer's or lead's actions and preferences are recorded in the marketing CRM, enabling team members from different departments to understand where the client is in the conversion process and nurture them appropriately.
Benefits of Customer Relationship Management for Your Business
Although it may seem obvious, the CRM's main advantage is its ability to help you manage customer relationships more effectively. Yes, there are many ways in which it helps in managing such relationships. But ultimately, all the benefits are just another way of improving your customer relations.
However, the benefits of CRM extend to every aspect of the sales cycle, from identifying leads and turning them into dedicated customers to keeping them satisfied and returning for more. Businesses can benefit from using a CRM in various ways, including increasing sales, nurturing leads, improving customer service and product offerings, revealing data trends and sales forecasts, and saving time. Here are some of the key benefits of CRM for your business:
Reduce time-consuming administrative tasks.
Thanks to automation solutions, your marketing, sales, and customer support team members to-do lists will be reduced by repetitive chores, allowing them to concentrate on duties that only humans can complete. This gives your team members more time to polish their pitch, assist a disgruntled customer for a bit longer, or do A/B tests to figure out how to create the most engaging marketing campaigns.
Boost sales via increased lead follow-up.
Using your CRM for lead monitoring, you can compile information on leads' preferences and behaviors as they progress through the sales funnel and note every interaction they have. You may even categorize leads according to where they are in the funnel. Next, automate all reminders and follow-up tasks. Anyone on your team can expertly complete the following steps now that all notes are in one location. More personalization ultimately results in higher conversion rates.
Automate data analysis and reporting
When handled manually, large data sets can overload sales representatives, losing qualified prospects and underappreciated clients. This is fixed by a CRM, which reliably collects leads and customer information, tracks every interaction or touchpoint, and does it with little work on the part of your staff. Then, the automated data analysis begins, producing short reports highlighting chances for taking action and serving as reminders.
Provide steady on-point customer support.
The automation technologies in a CRM scale excellent customer support. You can employ website chatbots to take complaints or access the knowledge base in your CRM to automate responses to frequent inquiries. Once a ticket has been created in your CRM, you can utilize the chatbot to escalate issues and direct clients to the team members who can address them the most effectively. Team members may anticipate demands and create solutions using centralized client notes and histories.
Forecast sales
Most of us have thought about how much simpler life would be if we could glimpse the future at some point. Businesses can get this functionality from a CRM by using sales predictions. Quick reports show if you're likely to reach or beat your sales targets. CRM sales predictions may be even more crucial because they let companies know whether they will fall short of sales targets, giving them the time and knowledge to change their strategy before it's too late.
Boost customer lifetime value.
CRM software enables companies to provide excellent customer care. With customer and lead segmentation, they also identify upselling and cross-selling opportunities. Also, they free up your team members' time to contact clients more frequently and build feedback loops that regularly result in better offerings. These advantages ultimately result in great customer experiences that encourage repeat customer purchases.
What a CRM Can't Do
A CRM provides tools to manage your customer journey or lead pipeline, gather digital data from customers, and increase efficiency in tasks that interact with the outside world. However, other software should be considered if you need to develop and maintain a website, improve internal processes, or oversee complex projects. Ensure your workforce is appropriately trained and accustomed to utilizing your CRM regularly to reduce CRM constraints.
Here are what you shouldn't expect a CRM to do for you.
Website building & management
CRM software lets you control the route leads, and customers take after visiting your website and using other digital channels. For instance, it can assist you in gathering information about the demographics, contact details, and product or content preferences of website users. It cannot, however, create and publish a website. So, it is preferable to think about a content management system (CMS) with a website builder if you require software to assist you in creating and maintaining a website.
Offline data management
A CRM gathers data from many digital channels. Depending on the CRM platform, this may entail collecting information from your website, chatbots, social media, advertisements, and email. However, CRM has limitations when collecting data from non-digital channels. If not handled properly, these restrictions could result in lost revenue.
In-depth Project Management
Using CRM software, you may maintain contacts and get a complete picture of lead and customer journeys. Even managing the flow of the trip is made more accessible. It does not, however, provide essential skills for managing other project types, such as product development. Instead, consider using project management software, which includes necessary features like task management tools, Kanban boards, and team and document-sharing tools.
Internal-facing business operations efficiencies
Sales, customer service, and marketing are examples of functions with an external focus that a CRM aids in streamlining. For instance, it can automate notifications for sales or customer support representatives to get in touch with leads or clients. On the other hand, enterprise resource planning (ERP) software, which may help handle internal processes like payroll, supply chain management, and financial services, is a better option if you need software that increases internal business efficiencies.
How to Choose the Best CRM for Your Business
To choose a CRM for your business, consider your features, goals, and budget need first. To get the best results, work with your team to do a complete analysis. Here is a closer look at how to choose a CRM.
Evaluate your budget
Any successful business continuously balances expenditures and revenues to ensure that its efforts result in profits. In line with this strategy, the CRM budget should be chosen. Although the pricing for most small-business CRM solutions ranges from $10 to $50 per month, they can be misleading. This is so because many CRM programs have a fixed cost per user. As a result, you must frequently double that per-seat price by the number of people who will use the CRM, for example, if your business requires a CRM for 50 users.
Therefore consider how much your business can spend overall on a CRM. After that, go backward. To achieve this, figure out your organization's overall CRM budget and how many employees would need to use the CRM actively. Then, to determine a per-person cost your business can afford, divide your overall budget by the number of users your CRM will need.
Outline your goals
List the weak points in your company's marketing, customer service, or sales. This could serve as the basis for improvement objectives. Next, list the goals you wish to achieve when managing your lead and customer connections after that. These objectives may include boosting sales of all or specific product lines, enhancing customer service, generating more information, or raising the lifetime value of your customers.
While most CRMs include essential capabilities, such as pipeline management and marketing automation, others have unique features best suited to particular businesses and their objectives. Some standout features are an advanced customer or lead segmentation, marketing automation, and ad tracking. When it's time to concentrate on feature offers, your goals can help you choose which distinctive features you require.
Consult your team
Your team members are specialists at doing their duties well and, more crucially, at finding new ways to improve efficiency so they can do them even better. Consult your marketing, sales, and customer service teams, at the very least. Ask them to rank the importance of each of their customer and lead relationship management goals. If budget-related sacrifices must be made, importance scoring will make it simpler to identify a workable solution.
Go deeper to make sure nothing is overlooked. Ask team members about the constraints they currently face when converting leads or consumers into customers, then translate those constraints into goals. Have them turn a constraint into a goal, such as "better track outreach opportunities to close more sales," if they say they frequently forget who they need to contact and when to close more sales.
Outline must-have and nice-to-have features.
You are ready to identify the CRM features that will enable you to achieve your goals now that you have a list of your objectives and those of your team. Ask team members to differentiate their must-have features from their nice-to-have features. If you need to make concessions, this will assist you in staying within your budget.
These are some typical CRM features and their functions to get you started on your list:
Automation: Automation allows your team to scale lead and customer management by automating repetitive tasks, such as role assignments, email sequence outreach, data gathering, and report generation.
Sales forecasting: Many CRMs offer reports that forecast sales levels, helping you understand whether you will likely meet your sales goals.
Email marketing: Most CRMs offer email marketing tools and automation like email templates, email sequencing, automatic email personalization, and email tracking and reporting.
Collaboration tools: To help companies align sales, marketing, and customer service, many CRMs offer Zoom integrations or real-time document collaboration capabilities.
Complaint tickets: When integrated with website chatbots, CRMs receive customer complaints or leads to scale excellent customer support. They either offer content to help resolve the issues or route those complaints to human reps who can fix them best.
Website forms: Many CRMs offer website form templates that your team can use on your website to capture customer and lead data.
Integrations: Integrations allow you to use third-party apps like Mailchimp or Outlook with your CRM to work to reach business goals more seamlessly.
Sales analytics and reporting: Analytics and reporting dashboards to show you which goals you are meeting and which you are not, enabling you to shift strategies to stay on track. They also say vital data points to help you better target customer or lead segments and close sales.
Call center automation: Call center automation helps customer service representatives serve customers or leads in a personalized manner more easily. For example, when a person calls the center based on their phone number, their contact records might automatically pop up on the screen so that reps can begin a personalized conversation instantly.
Marketing campaign management: CRM campaign tools may include marketing analytics, campaign scheduling, social media, and ad tracking, campaign workflows and email templates, and A/B campaign testing, among others.
Choose a CRM type
Choose a CRM type after considering your and your team's objectives and required features. First, check out this guide's list of CRM categories. Pick the one that delivers the features you need to achieve your goals and is most in line with them. Consider a collaborative CRM, for instance, if your objective is to increase sales and a common issue your team members raised needed to be adequate tracking of outreach opportunities. A marketing CRM should be considered if your team wants to generate or qualify more leads via email, social media, or your website.
Research highly reviewed CRMs
Now that you have a solid notion of the kind of CRM you require, the features you need, and your budget, search for the best CRM for you. Based on the current year, the software's features, pricing, and user evaluations, many publications offer tips on the finest CRMs for your business size—and even industry. Find these guides using your preferred search engine to learn about the top CRM tools available. Search terms like "best marketing CRM 2023," for instance.
Check out our article on the best CRM software for small businesses to find the right CRM for you.
Find the CRM options in these recommendations that best suit your business's objectives, market, spending limit, and feature needs. Then, list each one of them.
Opt-in for free trials to make a final decision
Many CRM programs have free versions or trials that you may use to test the top CRM options you compiled in Step 6 by using them. Enroll in these demos or free versions and permit a representative sample of your staff to use each CRM across all pertinent business processes. Get opinions on the user experience your team members have described, then base your decision on their views.
Final Thoughts
Your internal staff may get a 360-degree view of your customers and leads thanks to CRM software. A customized customer and lead journey that results in more excellent sales can be created with this view. In addition, the best CRM for your business will include features that align with your team's goals and available budget. Finally, test the fit with a mild rollout before committing.