What is the family based green card? | Family-Based Green Card, Explained
How does one enter the United States based on ties to family members already living there? To put it another way, how can you help your family members obtain their green cards by acting as a sponsor? Discover the ins and outs of green card sponsorship through family relationships so you can get started on your path to citizenship in the United States.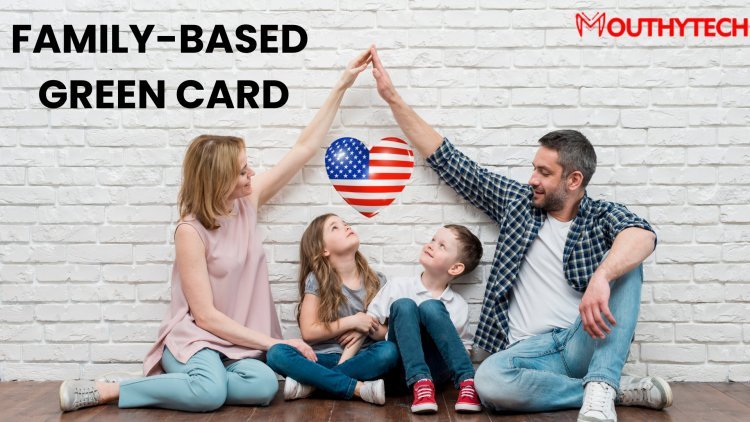 The ability to become a permanent resident of the United States through one's family is one of the most widespread ways that green cards can be obtained by individuals. These green cards make it simpler for people to immigrate to the United States based on their family ties, accounting for nearly two-thirds of the total number of green cards issued yearly.
Becoming a permanent resident of the United States grants you the right to reside and maintain a career in the country indefinitely. It is for this reason that green cards granted based on familial ties are among the most sought-after forms of permanent residency in the United States. However, before beginning the application process, several requirements must be met, which will be discussed in more detail below.
What Is a Green Card Based on Family Status?
A family-based green card is a type of immigrant visa that allows applicants to join their close relatives in the United States if they are eligible. If you are granted this type of green card, you will be able to:
Permanently residing in the United States
Obtain a driver's license in the United States.
Work anywhere in the country
It is simple to travel out of the country and back in.
However, there is a limit to the number of these visas that the United States Citizenship and Immigration Services (USCIS) can issue. If you apply and the limit has already been reached, you must wait until the following year to apply for your family-based green card.
Types of Family-Based Green Cards
Regarding a family-based green card, there are two general categories they can fall into. These two family-based green card categories are immediate relatives and family preference categories. That said, the application processes for these two categories are very different.
Below, we will go over the difference between these two categories.
Immediate Relative Immigrant (IR) Visas
This type of family-based green card is issued to close relatives of U.S. citizens. For example, here are some of the relatives that can be considered:
IR-1 Visa: Spouse of a U.S. citizen
IR-2 Visa: A United States citizen's unmarried child under the age of 21
IR-3 Visa: An orphan adopted abroad by a U.S. citizen
IR-4 Visa: An orphan to be adopted in the United States by a U.S. citizen
IR-5 Visa: A United States citizen's parent who is at least 21 years of age
Additionally, in this category, family-based green cards for parents and family-based green cards for siblings fall under this category. Due to this, if a child or young adult sponsor dies, the case becomes more complicated.
In the past, when filing a Form I-130 with a deceased parent, the green card application would be denied. However, USCIS will look into the case and treat the application similarly to other applications. But, if you do not fit into these subcategories, you could fit into the other family-based green card subcategory.
Family Preference Immigrant Visas
This subcategory is meant for certain family members. Unlike the above category, things are a bit different here. Family preference green cards include:
First Preference (F1): This first family preference is for unmarried sons or daughters of U.S. citizens and their minor children.
Second Preference (F2): This subcategory is solely for spouses, minor children, and unmarried sons and daughters who are 21 years and above of lawful permanent residents and above. Once this first group has reached the limit, the remainder in the subcategory will be allocated to unmarried sons and daughters.
Third Preference (F3): This category is for married sons and daughters of U.S. citizens and their spouses and minor children.
Fourth Preference (F4): This is for brothers and sisters of U.S. citizens and their spouses and minor children. However, the petitioner must be 21 years old or above.
How to Apply for a Green Card in the United States Based on Your Family
A Lawful Permanent Resident of the United States who wishes to sponsor a family member successfully must first go through a series of predetermined steps. Applicants whose petitions are considered to be for immediate relatives (IR) immigrants enjoy a faster processing time than applicants whose petitions are considered to be for family preference immigrants, even though the application procedures and required documentation are the same for both types.
The Submission of the Petition
Submitting an I-130 petition is the initial step in applying for a green card based on family ties. To apply for a visa, the family member who is a U.S. lawful permanent resident will need to send a petition on USCIS Form I-130 to the United States Citizenship and Immigration Services (USCIS) along with the required supporting documents (USCIS). It is necessary to submit Form I-130 to demonstrate the existence of a bona fide family relationship between the petitioner (LPR) and the beneficiary.
Following receipt of the petition, the United States Citizenship and Immigration Services (USCIS) will process the petition to determine whether or not all of the family-based green card eligibility criteria are met by the petitioner as well as the beneficiary. If the request is granted, the case file will then be sent to the National Visa Center so that it can undergo further processing. If the petition is turned down, the person who submitted it has the option of submitting it again after determining what adjustments need to be made in order to boost the likelihood that it will be approved.
After the I-130 petition has been granted approval, the case file of the immigrant will be sent to the National Visa Center (NVC) in order to undergo further processing. And if there is an available immigrant visa for the category, then the visa beneficiary will need to take the next step, which is either applying for a status adjustment or going through the process of consular processing, depending on which option is available. This will depend on whether the family member being sponsored is located in the United States or somewhere else in the world.
Change in standing or position
To complete this process step, you will need to submit Form 1-485 to the USCIS. Processing of green cards for family members already living in the United States of America After you have established a qualifying familial relationship with the help of the I-130 petition, this will be your primary application for a green card. It needs to be filled out, and all necessary attachments should be included. Applicants who are immediate relatives can submit both the I-485 and the I-130 forms at the same time, which indicates that their category does not have any numerical limitations.
Processing at Consulates
This is for members of your family who reside in countries other than the United States. In this scenario, the approved Form I-130 will be sent to the relevant embassy or consulate in the nation where you (the beneficiary) currently reside. When the petition is received at the embassy or consulate, all parties involved, including the petitioner and the beneficiary, will be notified. In addition, the notification will include details on when and how you can move forward with the process of obtaining your green card.
During the subsequent process, the immigrant will be required to take part in a medical examination, in addition to filling out various forms and providing documents. The following steps include having a one-on-one interview with a consular officer to verify that you meet the requirements. The DS-260, also known as the Application for Immigrant Visa and Alien Registration, is the document that must be submitted for this.
Do Not Hesitate Any Further; Get Started on Your Application Today!
Do not hesitate to apply for a family-based green card if you have been on the fence about doing so. Through mouthytech, we will be able to assist you with the entirety of the application process in every way possible. We are aware that not only will you lose significant amounts of money but also the time and effort you have invested in this endeavor if anything is mistranslated or done incorrectly.
After you have determined whether or not you are qualified, it should not be difficult to start the process. However, it is essential to have support. Please get in touch with us right away if you have any inquiries or if you are prepared to start the process of obtaining a green card through your family.
Official Related Links You Need
You have the best Guide on Immigration, Education, and Employment details for you to Get more out of what you need to know, and it is all free of charge:
Get More Guide - https://bit.ly/ABROAD-IMMIGRATION-CENTER
Immigration - https://bit.ly/IMMIGRATION-CENTER
Education - https://bit.ly/EDUCATION-CENTER
Employment - https://bit.ly/EMPLOYMENT-CENTER
US Immigration - https://bit.ly/US-IMMIGRATION
Conclusion
Consult with an immigration lawyer before beginning the process, as this is one of the things you will be required to do. You don't want to put in all this effort and spend all of this money on an application only to find out later that you forgot to include some crucial documents or information! Follow the link below for further information on obtaining a green card based on your family's relationship.